Why Cruise Lines Are Delaying Rolling Out Entire Fleets
Driven by consumer desires for new experiences, innovative technologies and environmental impacts – travel is changing. Host Sarah Dandashy explores the technologies and logistics that power travel and the brands that build unforgettable experiences.
The cruise industry has a devoted following, but the pandemic has kept most ships at port. As travel begins to rebound, what's next for cruising? Host Sarah Dandashy hopes for a fresh outlook in 2021 and invited cruising industry veteran Bill Panoff, CEO of PPI Group and editor in chief of cruise magazine Porthole Magazine, to discuss what's next.
Panoff, inspired by the TV show The Love Boat, knew he wanted a career on a cruise boat. He got his first break by being persistent, hyping his magic tricks. "Eventually, I wore the cruise director down, and he put me on an 800-passenger ship," he said.
His magic career bombed, but the connections he made with passengers and his likability kept him on board. He eventually became a cruise director but realized he wanted a more normal life on land. Not willing to give up his love of cruising, he started Porthole Magazine, the first of its kind.
Of course, cruising had a trying year due to the pandemic, but Panoff is optimistic about the future.
"The cruise lines are rethinking the experience, keeping safety in mind. But the consumer demand is there, as cruisers are very loyal," he added.
He expects cruising to pick back up this spring with shorter itineraries, fewer port stops, lower capacity, and changes inside the ship.
"Cruises to nowhere could be popular, as many ports remain closed to ships. Private island stops will work. Theaters will have a lower capacity, and dining will be different with no buffets," Panoff said.
Cruising is an experience-driven type of travel, so they'll be looking at new ways to make connections but ensure safety. For cruise fans, they can get updates on when cruises will be back, what to expect in the future, and more at porthole.com.
Follow us on social media for the latest updates in B2B!
Twitter – @MarketScale
Facebook – facebook.com/marketscale
LinkedIn – linkedin.com/company/marketscale
Latest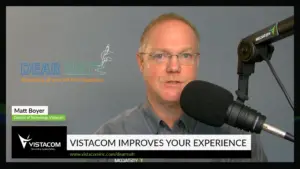 December 11, 2023
In a time when the AV industry supply chain faces unprecedented challenges, understanding its current status and future trajectory is crucial. In this week's segment of "Dear Matt," presented by Vistacom, host Matt Boyer, the Director of Technology at Vistacom, brings his over 30 years of experience in the audiovisual industry to the status […]
Read More