Why Spain is Considering Tourism Deals with Foreign Countries
Spanish Tourism Under Secretary Fernando Valdes said the nation is ready to consider other solutions, including corridors with countries that aren't in the European Union, to help restart tourism flows if an agreement over vaccine certificates at the EU level cannot be reached. He also added that given how vaccination campaigns are going, he expects British tourists to start flowing to Spain by the summer. Fernando Valdes spoke to Maria Tadeo on "Bloomberg Markets: European Open."
—
TADEO: We are joined by the secretary of tourism from Spain, that is Fernando Valdez. He's joining us from Madrid. And just before we get into the questions, just to give a scale of just how big tourism is on a good summer, you can attract about 80 million people. That's almost twice your population. So clearly, this is a huge industry for the country. So I do wonder, when you look at the vaccination certificate there, do you see political consensus building around that?
VALDES: Well, we are trying to. I mean, it is a change from the last council and now all countries, all member states, we have given us a roadmap in terms of explore how the certificate, the vaccination certificate, as well as the means can help us to retain a first European mobility and then obviously with third countries.
TADEO: Right and just to make it clearer, Spain wants this and you want this as soon as possible as essentially.
VALDES: We do, we do. We believe that the vaccination certificate has to complete our portfolio. We've been gaining new means of control of the disease since the beginning of the pandemic. This has given us, right now, the experience and the knowledge on how to control the virus and try to regain reopen our borders. So we believe here from Spain that we could be heading towards a summer with some kind of mobility.
TADEO: And just for everyone that is watching this, when we talk about a certificate and you show that you've been vaccinated, what does it mean in reality? Is it that you don't have to take a test, you don't quarantine? How would you put this to work in real life?
VALDES: Well, it would depend on how the virus goes on, the evolution of the pandemic. I mean, I think we need to take into consideration how the pandemic goes on. But at the end, it will complete that portfolio of means. And it will depend, maybe if you are vaccinated, that means that you don't need to take a test on origin. If you are vaccinated, it would give some flexibility on borders. But we'll have to see. In any way, we believe that this gives, again, flexibility to regain that that mobility.
TADEO: And when do you see the country reopening for tourists, particularly the UK, I'm thinking, you know, that's a big country for you in terms of receiving tourists. When do you see Spain reopening?
VALDES: Well, again, this will depend on how the pandemic evolves. I mean, we are very cautious. We've been, all countries, very cautious since the beginning of the pandemic. So we are not going to take any risk. We believe that first, and as a priority, we need to take into consideration our safety, the safety of our citizens and from visitors. But since the vaccination campaign is evolving and we are in integrating all these means, we believe that maybe in summer, we will be regaining British tourist here in Spain.
TADEO: Right, and the Greeks say that they would look into bilateral deals with the UK if there's no vaccination certificate. Would you do that to do a one on one deal with the UK if that was needed?
VALDES: Well, right now we have discussions with our colleagues in the UK. For us, the British market is our main market. But obviously, since we are a member of the European Union, the solutions have first to be part of the discussions in the EU. And obviously, if that cannot be reached, we will be thinking of other solutions like green corridors with third countries that can help us to restart tourism flows.
TADEO: OK, so just to pick up on that as a final question, what you say is that if there is no consensus at a European level, then you would look into other avenues and that means potentially deals with specific countries. That's essentially what you say.
VALDES: Yeah, that would be something that we take into consideration. Not now, obviously. For now, as you mentioned, our ministers are discussing yesterday how to evaluate the certificate and corridors and all the means to restart the tourism flows at the European level. Now, this is our priority. I mean, I think that we have a big chance to reach a consensus between member states, but we take into consideration all means, yes.
*Bloomberg contributed to this article.
Latest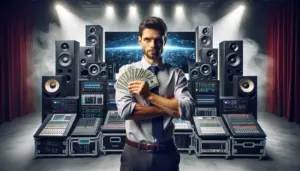 December 8, 2023
Mastering AV sales strategies in a global professional audio-visual (Pro AV) market, poised to reach $79.2 billion by 2028, requires much attention to detail. The surge in demand from corporate, government, and institutional sectors, driven by the need for enhanced productivity and efficient working environments, gives AV sales pros a lot of opportunity. In […]
Read More