Will Blockchain Shift The Power In The Home-Sharing Economy?
Driven by consumer desires for new experiences, innovative technologies and environmental impacts – travel is changing. Host Sarah Dandashy explores the technologies and logistics that power travel and the brands that build unforgettable experiences.
We are entering into a new era of travel, and it's interesting to see how it's shifting. The COVID-19 pandemic forced the hospitality industry to adapt, but it also forced it along in terms of rapid growth. One of these ways is with blockchain and how it's going to impact the travel industry moving forward.
Here to give insights on this episode of Say Yes To Travel with Host Sarah Dandashy is Luke Kim, Head of Marketing at Dtravel, a decentralized platform for the home-sharing economy facilitating short and long-term stays payable with cryptocurrency and traditional payment methods.
Kim got his start working at Amadeus IT, a large company in the south of France that engages in the provision of transaction processing solutions to the global travel and tourism industry. Working in the innovation department, he gained a lot of experience before moving on to a nonprofit. He also worked on several projects in blockchain.
He eventually landed at Dtravel, which he likens to a company that's for the people by the people. Former executives from Airbnb, Expedia, and other global technology companies have joined forces with Binance-backed Travala.com to launch Dtravel. One of the things they pride themselves on is having lower fees than existing platforms.
"I believe in everybody having the right to be paid out for what they're worth," Kim said. "The people who are working hard to make our economy work should be able to benefit off the value of that economy."
The decentralized nature of blockchain works well with the sharing economy, such as home-sharing. Conceptually, blockchain tends to make sense, but practically it tends to look like black magic, according to Kim.
"If you imagine an Airbnb, where the users themselves are the owners and the controllers of the platform," Kim said of a home-sharing blockchain platform. "If you imagine where the hosts have the ability to decide for the policies and fees they feel are fair."
Follow us on social media for the latest updates in B2B!
Twitter – @MarketScale
Facebook – facebook.com/marketscale
LinkedIn – linkedin.com/company/marketscale
Latest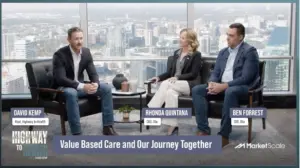 December 7, 2023
As of recent times, the healthcare industry has been progressively shifting towards value-based care, a model that emphasizes patient outcomes over the quantity of services delivered. This transition represents a significant shift that promises to enhance patient experiences and outcomes while controlling healthcare costs. With a growing emphasis on this approach, especially over the […]
Read More