Beauty Redefined: What Is Modern Beauty?
On this episode of 3×5, a podcast by ThenWhat, Host Grant Barth talked with Cece Meadows, Founder, and CEO of Prados Beauty, which designs and crafts high-quality cosmetics, makeup brushes, and lashes. He also talked with Julie Thibault, Founder of Martingale Advisors, which manages equity portfolios for many of the world's most demanding corporate pension plans, foundations, endowments, public retirement systems, and multi-employer funds.
Thibault started her career in finance, private equity, and banking. After business school, she found herself in brand strategy, eventually falling into the beauty world. In her last role, she was the Head of Retail Innovation for Global Beauty. She then founded Martingale Advisors, which works with beauty companies, as well as other industries.
"My passion is ultimately consumers and figuring out why consumers do what they do and helping to solve some of the problems that exist," Thibault said.
Meadows is an innovator on a different level. She started out as a makeup artist and has some experience in banking. Prados recently launched under Thirteen June inside JC Penney, an e-commerce beauty platform focusing on black and brown beauty products. Meadows started her brand in her baby's nursery with $150 and the dream to be a global beauty brand one day.
"We're the first Chicana- and Indigenous-owned beauty brand in a major retailer," Meadows said. "It's pretty exciting."
Latest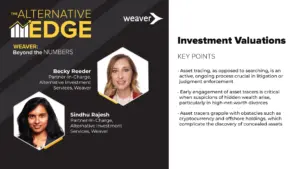 December 4, 2023
In this episode of The Alternative Edge, a Weaver: Beyond the Numbers Podcast, host Becky Reeder, an audit partner and co-leader of the alternative investments practice at Weaver, engages with Sindhu Rajesh, an Alternative Investment Services Partner with Weaver. They unpack the complexities of venture fund valuations, offering critical insights into industry dynamics and best […]
Read More