Conga Acquires Octiv, Expanding Potential of Both Companies
Xcomony reports that Conga recently acquired Octiv, formerly known as TinderBox. Conga helps to keep businesses efficient by simplifying and automating documents and data. The entire business cycle in Salesforce is supported, streamlined, and automated. However, they are increasingly focused on intelligent document automation. Octiv provides a similar intelligent document service, which is why they initiated a partnership with Conga. According to Octiv CEO David Kerr, Conga will benefit because "Conga will enhance its document automation capabilities by adding the ability to create and manage Web-based documents while measuring engagement throughout the documents' lifecycles."
Intelligent document automation is "software that assists in the creation of electronic documents, often contracts, letters, or other legal correspondence with boilerplate language," saving companies time in the creation of standard sales, marketing, and legal documents. While the current process is driven by logic and templates, future automation will likely be driven by artificial intelligence.
So, what makes the current document automation intelligent? Imagine you are drawing up a contract with a company from another country. Intelligent documents automatically adjust prices according to the current exchange values of each country's currencies. And that's only the tip of the iceberg. They can accelerate sales processes and help ensure regulatory compliance, protect your brand, and report on any actionable data. These are valuable tasks in our online world.
More good news is that all of Octiv's 55 employees will be retained by Conga. Furthermore, Octiv's 300 customers will be pleased to have access to Conga's greater resources. Further, Conga intends to expand on the Octiv operation in Indianapolis, and this acquisition's benefits for Octiv will soon become apparent. And customer benefits in overall satisfaction and product innovation will be revealed too, as synergies between the two companies emerge.
Latest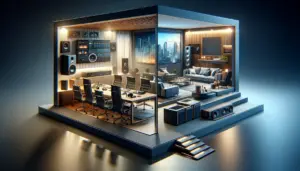 November 27, 2023
In this episode of "Pro AV Today," host Ben Thomas sits down with Audra Kinsley of Sonos Professional to unpack a topic that's causing (sound) waves in the audio industry: the fusion of commercial and residential audio systems. As we navigate through a landscape where consumer and professional audio worlds are increasingly intersecting, Sonos steps […]
Read More