Creating a Cloud Platform to Solve the Automotive Recall Nightmare
The way we communicate, share data and use technology to act on those insights is changing – and it's all leading to the cloud.
On In the Cloud, every week new experts will engage in a fire side chat and will bring their extensive experience in software, IT and mobile solutions straight to you, offering a glimpse into the future of cloud connectivity around.
The 21st-century vehicle depends just as much on software than hardware. Software is constantly evolving, so how are automakers keeping up to meet the growing demand for connected and autonomous vehicles? Answering that question and more, In the Cloud host Hilary Kennedy welcomed Hemant Sikaria, CEO of Sibros. Sibros is an automated cloud solution that manages software for connected vehicles.
"Connectivity is key to have autonomous and electric vehicles. Without a connectivity and management platform, you can't have the modern vehicle," Sikaria said.
"Even if someone is giving a command to a vehicle, it will still check the environment and be self-protecting. It will use its sensor and data to make the right decision." – Heman Sikaria
After dealing with a frustrating process of recalls on vehicles that needed software updates, the idea of Sibros came to him. "It was surprising to me there wasn't a better solution, Sikaria noted.
After all, 90 million cars are sold every year, so a productized platform makes sense. "There are both safety and security benefits for connected cars. Data collection from vehicles can help improve the safety of the vehicle," Sikaria commented.
However, some may feel anxious about connectivity on this level due to the chance of a hack. Hollywood has stoked these worries, but Sikaria explained it's far-fetched.
"Even if someone is giving a command to a vehicle, it will still check the environment and be self-protecting. It will use its sensor and data to make the right decision."
The company works with many manufacturers, making it easy to integrate and at no cost. "We offer a product-based solution and usually pilot first. We continue to see quick adoption to our platform as manufacturers evolve into software companies."
Stay Tuned For New Episodes
Latest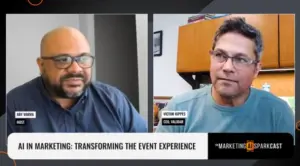 November 28, 2023
AI has been gradually changing the landscape of event technology at a very rapid pace. In an industry where staying ahead of technological trends is crucial, AI's impact on marketing and event management has become increasingly significant. As witnessed in the rise of account-based marketing and enhanced personalization, AI is effectively reshaping how events […]
Read More