Data Privacy Trends are Shifting
Data drives decisions of the worlds largest companies but in a world with constant data, how do you make sense of it? Host TC Riley, puts the world under the lens of data and analytics and explores current news, B2B trends, and popular topics.
The data privacy battles are heating up, and many consumers are just now tuning in the discussion. That's because Apple's latest update will prompt users to opt-in to share data with third-party apps, marking significant changes to IDFA (ID for advertisers). Well, Facebook is upset, but are these tech giants worried about data privacy? That's what TC Riley is diving into in this episode of Diving into Data.
"Are users more protected? That's what Apple says, but it seems like more of a shift since they aren't limiting the data they collect on you," Riley said.
"That's data captured within your ecosystem about your customers" -Thomas Riley
The commotion from Facebook is under the guise of small business impact, but Facebook may be more upset because most of their users are on iPhones. Small businesses may see some challenges, but they will weather them. "This is what happens when you operate in rented spaces instead of owned ones. Small businesses will adapt. They also have. That's what capitalism is all about," Riley commented.
What this change really means is that businesses need to consider a paradigm shift to first-party data. "That's data captured within your ecosystem about your customers," Riley explained. If organizations gather customer data through their owned avenues and media, they face no serious consequences when tech companies make changes.
Ultimately, Riley agreed that Apple wins this round because they have the most enclosed ecosystem. It's their software and hardware. It should prompt companies to move into first-party data collection because everything else is not within their control.
"Everyone complaining is missing the bigger picture. Big tech has a lot of control, and we're caught in a firefight of trillion-dollar companies. It's not ideal, but better for the free market to decide and not a state or party," Riley added.
–
Follow us on social media for the latest updates in B2B!
Twitter – @MarketScale
Facebook – facebook.com/marketscale
LinkedIn – linkedin.com/company/marketscale
Latest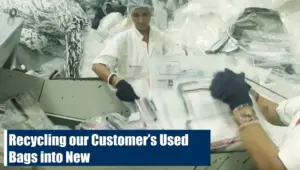 December 6, 2023
This video focuses on EcoLOK4, a groundbreaking product by CONTROLTEK that exemplifies innovation in sustainability. It highlights the process of transforming landfill waste into new deposit bags, with 90% of each bag's material being repurposed trash. This initiative not only reduces waste but also closes the sustainability loop, demonstrating CONTROLTEK's commitment to environmentally friendly […]
Read More