Deloitte Showcases State-of-the-Art Smart Factory in Canada
Deloitte has unveiled a new "smart factory" and warehouse in Canada, which aims to demonstrate the potential of Industry 4.0 technologies. The 50,000-square-foot facility, located in Montreal, Ontario, includes a range of advanced technologies, such as autonomous mobile robots, augmented reality tools, and predictive analytics software. The facility's modular design allows it to adapt to changing production needs, enabling faster and more flexible manufacturing.
The smart factory's key features include a digital twin platform that simulates production processes, allowing for real-time monitoring and optimization. It also features a "lights-out" production line, where machines are fully automated, and human intervention is limited to maintenance and oversight.
The smart warehouse incorporates automated storage and retrieval systems, as well as drones and robotics for inventory management and order fulfillment. The facility also uses advanced sensors and tracking technologies to improve safety and security.
Deloitte plans to use the smart factory and warehouse to showcase Industry 4.0 technologies to its clients and to collaborate with academic institutions and other stakeholders on research and development initiatives. The facility also aims to serve as a training ground for the next generation of engineers and technicians.
The new smart factory and warehouse is the first of its kind in Canada and demonstrates the country's commitment to adopting advanced manufacturing technologies. It is expected to have a significant impact on the manufacturing industry and help position Canada as a leader in Industry 4.0.
Latest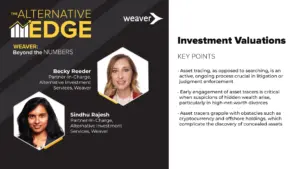 December 4, 2023
In this episode of The Alternative Edge, a Weaver: Beyond the Numbers Podcast, host Becky Reeder, an audit partner and co-leader of the alternative investments practice at Weaver, engages with Sindhu Rajesh, an Alternative Investment Services Partner with Weaver. They unpack the complexities of venture fund valuations, offering critical insights into industry dynamics and best […]
Read More