Digital Transformation Strategies in the Age of COVID: Nokia Today
"A lot of companies tell us their strategy is fragmented, and we really saw that when COVID started," Shaw said. "They just didn't have a plan, or they had a plan that was more visionary."
Digital transformation in the workplace can be complicated, however, it is necessary, as digital ecosystems will account for more than $60 trillion by 2025, according to data from McKinsey. No matter their thoughts, investing in digital technology will be critical to keeping companies relevant.
On this episode of the podcast, Host Tyler Kern spoke with Arquelle Shaw, Senior Vice President of Americas Sales at Equinix, a digital infrastructure company that interconnects industry-leading organizations in finance, manufacturing, mobility, transportation, government, healthcare, and education across a cloud-first world. They talked about the role of critical infrastructure in digital transformation.
"Our platform, which is built based on a number of factors: Data centers, our backbone, and also our digital services, such as Network Edge, enables our customers to launch their services globally in a very rapid manner in an agile way, and to really leap ahead with confidence in their digital transformation," Shaw explained.
Navigating any sort of digital transformation can be complex. This causes many companies to evaluate where their starting point is, and unfortunately most find that they don't have the technology and network capable of supporting these transformations when they change their business.
"A lot of companies tell us their strategy is fragmented, and we really saw that when COVID started," Shaw said. "They just didn't have a plan, or they had a plan that was more visionary."
Latest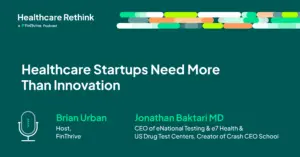 December 11, 2023
Healthcare startups need more than innovation; they require dynamic leaders willing to take these endeavors beyond the ordinary into uncharted waters to generate unparalleled success and lead the industry forward. In the latest episode of The Healthcare Rethink Podcast, host Brian Urban sits down with multifaceted healthcare leader Jonathan Baktari, MD, CEO of eNational […]
Read More