How to Accelerate Automation by Targeting Productivity Gaps
The continuous modernization of industrial processes is dizzying and exciting. All Systems Go is a show that intends to demystify the varying technologies—from UAVs and robotics to supply chain software and virtual reality sims—and how they will advance everything from logistics to manufacturing across the globe.
Productivity is a critical metric for any manufacturing company. Boosting it has become an even bigger challenge in the UK for SMBs, with labor challenges because of Brexit and COVID-19. Technology, however, is acting as a tool to facilitate automation with collaborative robots (cobots). Discussing this subject today, All Systems Go host Ruari McCallion spoke with Mark Gray, UK Sales Manager for Universal Robots, one of the first to develop cobots.
"SMBs have productivity challenges and are often not able to invest in automation. That's why Universal Robots exists, and we offer a collaborative robot that shares a workspace with people," Gray explained.
A cobot can remove idle processes in a variety of manufacturing settings. They can take over the manual, repetitive tasks to accelerate productivity and fill the gaps of not having enough workers.
"For SMBs that have never used automation and want to take the first step, there is a pathway to easy deployment." – Mark Gray
There are still hurdles for SMB adoption. "It's difficult to get that CAPEX expenditure, so we partnered with a leasing company so companies can lease the robot, and it becomes an operating expense," Gray said.
While cobots are making an impact, Gray warned not to get enamored with the idea of AI. "It's a narrow application. Automating the simplest tasks is first before taking on any dynamic ones," Gray noted.
Those businesses that do begin to use the technology will see results. "It takes the idle time out of a production cell. If you take the screwing task away in assembling, it takes less time. You can see a 50% increase in productivity with sharing tasks," Gray shared.
Automation is the way to business transformation for UK manufacturers, as they deal with labor challenges and continued pressure to cut costs and optimize operations.
Follow us on social media for the latest updates in B2B!
Twitter – @MarketScale
Facebook – facebook.com/marketscale
LinkedIn – linkedin.com/company/marketscale
Latest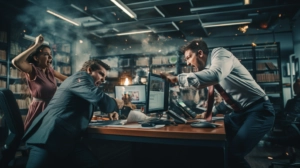 September 22, 2023
The kind of news that is delivered everyday serves as a grim reminder of the escalating violence across the U.S. Evidently, the need for proactive measures to ensure safety has never been more pressing. Such violence is not limited to any particular locale. It's actually permeating in so many different areas once considered […]
Read More