How to Power Innovation and Efficiency with Attention to the Little Things
On There's More to IT, host Jason Claybrook and guests will explore some foundational questions about the technology that's driving us all forward.
Why do we build the stuff we build? What's behind the scenes? Where are we falling short or putting revenue first?
The days of post-trade show drinks and conversation are far from over. In fact, they live right here on There's More to IT.
The pace of technological innovation and adoption is quicker than it's ever been. In fact, it's likely fair to call it breakneck.
However, the rush of chasing the latest and greatest is no excuse to avoid the fundamentals. In fact, failing to pay attention to the little things is a recipe not only for stagnation, but for regression and wasted dollars.
On this episode of There's More to IT, hosts Jason Claybrook, Simon Lok and Reid Estreicher dove into the overarching topic of new and exciting technologies – and how to ensure your organization is making the most of them.
Particularly for organizational leaders, choosing which new technologies have staying power worth investing in is critical. For example, parts of the world are using 16Hz internet, which is pending approval in American – once approved, will it make sense for most businesses to adopt it?
"If you talk about technology but don't understand the science behind whats going on, every decision that you make will be flawed." – Simon Lok
Ignoring the details of technology adoption, rollout and implementation, Claybrook said, is as good as "setting money on fire," and that's a price no organization can afford in a global landscape shifting faster than any period in recent memory.
Tune in to the entirety of this episode of There's More to IT for more front-line insights about the drivers behind solid IT investments, examples that show the perils of making a wrong turn (or, in this case, writing the wrong check), and more.
Follow us on social media for the latest updates in B2B!
Twitter – @MarketScale
Facebook – facebook.com/marketscale
LinkedIn – linkedin.com/company/marketscale
Latest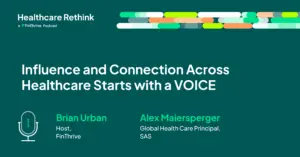 September 29, 2023
In the latest episode of the Healthcare Rethink podcast, presented by FinThrive, host Brian Urban sits down with Alex Maiersperger, the Global Principal Healthcare at SAS. Their conversation charts the role voice plays in influencing and connecting the healthcare industry. Maiersperger, who co-founded the Advancement League, shares his journey from being a healthcare optimist to […]
Read More