How IOT & AI Will Live Side By Side
With more than 4 billion internet users worldwide today and 31 billion connected devices forecasted by 2020, the future of the digital world lies in how people and "things" will interact with each other. The key to this will be the convergence and consolidation of internet of things platforms and devices which will be able to seamlessly exchange data between people, networks, devices and applications.
Creating this world, where multiple service and technology layers work harmoniously to create ubiquitous, ultra-connected experiences, is a task that will take years to complete. It requires a robust technology platform, powered by artificial intelligence.
Today, we are siloed in how we think about IoT. We develop solutions for the sake of technology and continue to think in small incremental steps about the data we are collecting. It's relatively easy and cheap to deploy a connected sensor and collect data, but it's the easy way out and everyone is doing it.
The industry is missing a critical link: the marketplace for IoT to use the data collectively and build an ecosystem for distributed monetization of data. This is where AI comes in.
Read the full article here
Latest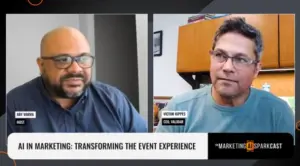 November 28, 2023
AI has been gradually changing the landscape of event technology at a very rapid pace. In an industry where staying ahead of technological trends is crucial, AI's impact on marketing and event management has become increasingly significant. As witnessed in the rise of account-based marketing and enhanced personalization, AI is effectively reshaping how events […]
Read More