New Tower Tech Certifications Promise a Safer, Better Skilled Wireless Workforce
The National Association of Tower Erectors (NATE) recently established the National Wireless Safety Alliance (NWSA) and now have two new worker certifications that are part of their renowned Climber Connection series. The certifications offer a credentialing system for the industry, with a focus on improving safety and defining best practices.
The New Tower Technician Certifications
NWSA announced the new programs, developed by the group's Telecommunications Tower Technician Task Force, in January. The Task Force includes experts from the communications industry with representatives from workers, carriers, tower owners, OEMs, manufacturers and suppliers. The two new certifications are Telecommunications Tower Technician 1 (TTT-1) and Telecommunications Tower Technician 2 (TTT-2). The NWSA also collaborated with the National Commission of Crane Operators (NCCCO) for its expertise in creating certifications.
The certification involves a computer-based written exam as well as a practical application that shows the worker's skillset in action. Once a worker passes both parts of the program, they have the opportunity to be listed in the NWSA's online credential verification database.
In a press release from NWSA, its Board of Directors President Don Doty said, "This is a tremendous milestone for the communications tower industry as NWSA certification is now available on a nationwide basis."[1]
Because the program is now available to all workers, this offers the opportunity for standardization, enhanced safety, and a more skilled workforce. That opportunity can expand beyond the core group of technicians. The NWSA is also planning additional certifications, including Antenna & Line Foreman, Certified Climber, DAS, and many more.
How to Apply
The NWSA website has a complete program description of each course, including a Candidate Handbook, which includes reference materials and practice exams. There is additional information about the two parts of the exam: computer-based and practical. Application for the exams starts here.
Certifications Make the Industry Stronger
When an industry creates certifications, it's a win for all stakeholders. The workforce has a stronger skillset, and there is consistency across the industry. Carriers, tower owners, and many more, will benefit as well, as inconsistency and safety issues increase costs.
Read more at tessco.com
Latest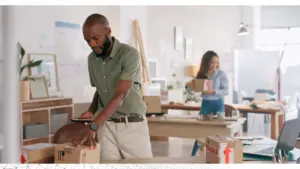 November 29, 2023
While the logistics industry often gravitates toward cutting-edge technology, Wesley Boyce, an Assistant Professor of Practice in Supply Chain Management and Analytics at the University of Nebraska-Lincoln, brings to light the enduring significance of radio communication. In a world enthralled by digital innovation, he argues that the simplicity of radios could be their greatest […]
Read More