Not Your Father's Data Center: Innovations in Generator Land
How did a Texas boy, who swore up and down he'd never leave Texas for Oklahoma, wind up involved with the data storage industry in Oklahoma? Chris Brown, CTO at Uptime Institute, isn't 100% sure himself, but spending the past 25 years in the Sooner state means something went right. And Brown said the data center life treated him well so far.
"I was fortunate enough to get into some different companies in times when they were doing a lot of work and a lot of changes," Brown said. "So, it allowed me to get thirty years of experience in about ten or fifteen years. And I've enjoyed working in the industry, and I look forward to many more years to come."
And with Brown's passion for data centers limitless, he knew he eventually wanted a role where he could help other industries increase their data center capacity and knowledge. Brown's journey led to the Uptime Institute.
"Once again, most opportunities are those are surprises rather than things that are planned," Brown said. After a stint working for Saber Company and a few other related mechanical engineering data center opportunities, a friend from his past called him up to join the Uptime Institute to help them with some engineering challenges. Over the past twelve years, Brown worked his way from consultant to CTO.
"When I started at Uptime Institute, there were four people delivering the technical work, and they were all US-based," Brown said. "Today, we have thirty-four engineers scattered across thirteen different countries and still growing. It's definitely changed a lot. But the data center industry's changed a lot. When I first started (in the industry), chilled water plants were the norm because the electrical power that was required to run a chill water plant was about 25% of what it would be with direct expansion." Technological advancements in direct expansion today make that method much more affordable.
Latest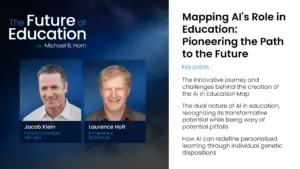 October 2, 2023
Mapping AI's role in education should be a critical step in bringing together innovative technology-based solutions with the expertise of human educators. With rapid advancements in artificial intelligence and an increased reliance on technology-driven educational solutions, the education landscape is on the brink of a significant transformation. AI promises highly personalized learning experiences, efficient administrative […]
Read More