Processing Sustainability and Digital Solutions in the Age of Transparency
Consumers today want to know where products come from and how they're being made, and this makes transparent operations a must for building consumer trust. The shift to transparency didn't happen overnight. Demand has steadily grown with consumer health concerns about food safety and the need to track and trace throughout the value-add chain. At the same time, direct-to-consumer e-commerce and smart command technologies that provide instant information have been rapidly evolving. Stringent government regulations and the consistent downward trend of cost of computing power (cost-per-million for standard operations per second), and storage (cost-per-terabyte) have created an environment ready for the development of industrial digital solutions.
Machine and plant-based management systems with real-time data collection not only help manufacturers achieve more transparency, they can ensure sustainable operations by enabling responsible environmental production practices that minimize waste. Sustainable operations also include efficiency, cost-savings, and new profitability. Process control systems enable efficiency gains which have been unattainable with operator-only led adjustments. Pairing intelligent autonomous machine control with robust producer recipe management, producers can also generate more on-specification products using less energy.
Continuously monitoring and controlling moisture content of a product exiting the dryer enables adjustments to be made immediately, and this can lead to productivity gains. In fact, just a small percentage gain can increase profitability. A net increase of 1% in finished moisture can result in a return-on-investment increase of $300,000. This could equate to energy savings valued at $20,000 per year.
For food safety, continuous process monitoring with sensor-based technology can give users access to real-time log reduction data based on connected sensors that transmit information with an edge or cloud-based model of a particular process. Should a process deviation occur, the user will be alerted so that the process can be altered. For segments of the food and feed industries that rely on drying or roasting equipment for a kill step, this is a valuable solution for food safety validation.
Click here for information about the upcoming International Powder & Bulk Solids Conference/Exhibition
For the future, transparency of the complete value-add chain in near real-time will be indispensable and inseparable from food operations. Interest in transparent operations will increase as consumers desire fresher and minimally processed foods. Moving from farm to fork with fewer processing steps will result in shorter shelf lives for our foodstuffs. Real-time technology must be employed to catch and correct manufacturing concerns, to maintain the highest level of food safety for our consumers. Food producers already have the ability to directly share processing data with consumers, but the use of IIoT, cloud computing platforms, and social media distribution will give producers transparency like never before. Raw materials can be tracked from farm to fork with the swipe of a finger. This enables consumers to understand key ingredients, to allow the savvy consumer to purchase exactly to a personal preference.
In the end, the use of big data within the production chain to mitigate risks, drive down waste and improve yield will separate thriving businesses from the rest. With total IIoT solutions, operators will be connected to processing expertise–viewed in real time via computer, phone, tablet, or other web-connected devices, with cloud-based storage and custom dashboards providing the most critical data. They'll gain information they can use, and the results will be transformative for business operations and the bottom line.
As head of digital services for Bühler Aeroglide, Paul McKeithan leads a team that is driving digital innovation in the thermal processing industry, with products based on decades of drying research and processing algorithms. As a mechanical engineer with more than 20 years of drying process expertise, McKeithan has lead Bühler Aeroglide's business development and global sales activities in the food and feed market sectors, integrating the company's strengths in product innovation with strategies that continue to gain market share. McKeithan is passionate about helping processors understand how real-time insights from complex data stores can maximize sustainable processing and profitability.
Be sure to follow Paul on LinkedIn for more articles like this one!
For related articles, news, and equipment reviews visit our Drying & Thermal Solids Processing Equipment Zone
Click here for a List of Drying & Thermal Solids Processing Equipment Manufacturers
Latest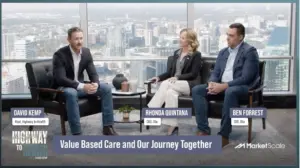 December 7, 2023
As of recent times, the healthcare industry has been progressively shifting towards value-based care, a model that emphasizes patient outcomes over the quantity of services delivered. This transition represents a significant shift that promises to enhance patient experiences and outcomes while controlling healthcare costs. With a growing emphasis on this approach, especially over the […]
Read More