Red Lion Introduces Secure Industrial Remote Access Platform
York, PA – October 13, 2020 – Red Lion, the exclusive North American partner for MB connect line GmbH, announces the launch of its Secure Remote Access Platform. This next-generation remote access solution meets the most demanding security requirements of modern industrial applications.  Red Lion's Secure Remote Access Platform centralizes the management of routers, allowing customers to quickly respond to and act on their most crucial assets from anywhere, at any time. The ability to remotely access, monitor and manage diverse equipment helps to lower operational costs and downtime by reducing site visits and dramatically improving response times.
To simplify deployment, Red Lion's remote access routers offer Simply.Connect technology. This  enables the setup of routers in under two minutes, facilitating small or large deployments using only a smartphone. Once configured, routers can be deployed anywhere, providing real-time, secure, and seamless connectivity to remote assets or sites.
The foundation of Red Lion's remote access platform is RLConnect24, a remote service portal that provides a simple centralized site to monitor and manage deployed assets and users. RLConnect24 provides data visualization, geographic mapping, data logging, and alarms based on operational or system-generated data. The RLDialUp client software enables operators to securely connect their PC to remote assets for maintenance and configuration, just as if they were plugged into it locally.
Red Lion's Secure Remote Access Routers are industrial-grade gateways that offer optional LAN, WAN, serial, USB, Wi-Fi or 4G LTE connectivity to ensure seamless integration with any industrial application. Red Lion also launched the RA10 compact industrial firewall, which provides OT-cybersecurity.  This intelligent firewall can learn and self-configure to help secure older assets, avoid address conflicts, and/or logically isolate machines or groups of machines.
"As the industrial world rapidly shifted to the new normal of remote production operations due to the pandemic, demand for platforms that securely enables these remote production operation capabilities has never been stronger and more critical", according to Craig Resnick, Vice President, ARC Advisory Group. "Red Lion's Secure Industrial Remote Access Platform was designed to enable secure access in real-time from any location. ARC expects that this new normal of remote production operations will remain even after the pandemic, as the industry has recognized its benefits to maximizing productivity, key performance indicators, profitability, and most importantly, sustainability to overcome any future pandemic-like challenges."
To learn more about Red Lion's Secure Remote Access Platform, visit here.
About Red Lion Controls
Red Lion has delivered innovative solutions to global markets since 1972 through communications, monitoring, and control for industrial automation and networking. The company's technologies enable customers worldwide to gain real-time data visibility that drives enhanced productivity. Red Lion is part of Spectris plc, the productivity-enhancing instrumentation and controls company. For more information, please visit here.
Media Contact
Nicole Kessler, Marketing Manager
+1 (717) 767-6961 x6913
Latest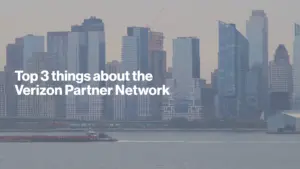 December 1, 2023
A special episode of The Verizon Partner Network focuses on an examination of an industry marked by fierce competition and rapid innovation. But most importantly, how the role of partnerships in a company's success is increasingly vital. Mark Tina, the VP of Indirect Channel Distribution and Channel Chief at Verizon, details why partners are essential […]
Read More