Smart Homes Aren't "Smart," But They Could Be, with Universal Screens and Neocontrol Global
When considering how to build a new smart home or transform an existing home into an automated one, there are generally two options available: DIY or a professional custom solution. Manufacturers of smart home equipment have made it exceedingly simple to do it yourself, but there is something to be said for hiring a pro. The decision typically comes down to what is wanted from a smart home.
DIY solutions usually entail a classic Google Home or other similar device paired with other third-party smart bulbs, thermostats, doorbells, etc. While many of these systems and accompanying appliances are touted as plug-and-play, easy-to-use devices that don't require the services of a professional, they still require a certain amount of proficiency with both electricity and IT.
Effective but costly, the professional approach to home automation typically requires a contract including servicing fees, that if severed prior to its end, will likely result in a penalty fee. However, enlisting the help of a pro means you won't have to lift a finger to ensure that your entire home is fully automated, secure, and monitored, providing a total piece of mind.
Characteristically, a high-end custom solution is usually only affordable to the very wealthy. However, less costly DIY solutions lack the integration possible with a custom solution, requiring tech savviness that sometimes overreaches mainstream capabilities to provide a less than complete automation system and more a per feature functionality. However, what if there was a third option, one that straddles the best of both worlds?
Today, Michael Longoria, Business Development Manager at Universal Screens, and Andre Comitre, COO of Neocontrol Global, joined MarketScale's Industrial IoT podcast to discuss home automation trends, the difference between DIY and professional custom solutions, and how some solutions meet right in the middle.
Universal Screens is a Plano-based outdoor shade company that manufactures manual and motorized shades that bring style and comfort to outdoor spaces, providing both pest and solar protection while maintaining privacy. Neocontrol is an American-Brazilian company created to provide a simple solution to control lighting, curtain, blinds, air conditioning, access control, home theater, and more.
As Longoria and Comitre see it, DIY is a stepping stone to full automation. With DIY, the ability to control a home feature by pressing a touchscreen allows control of that function, but multiple functions require different apps, lacking the seamlessness that full automation provides. When people start understanding the advantages of controlling something through a traditional home device or smartphone, they begin to recognize the benefits of complete home automation.
"So, we work it on both sides. First of all, understanding the customer's needs. We actually have a simpler solution when comparing to high-end home automation products, right? For example, here, high-end products will enable you to control 10 Apple TVs at home, on 10 different monitors, right? And you can choose whatever you're going to watch on each of them. That's not a need we're going to see in the majority of the homes. So, at that point, we are offering a simpler solution, right? And comparing to DIY we've been talking about that, it's more well-integrated," Longoria said.
"But on the professional side, we're working hard to have something that is simpler to understand from the technical standpoint, simpler to install, simpler to program, faster to program. Meaning, different kinds of companies now can have access and will be able to actually integrate and to specify whatever they need to have in the home in order to turn the home smart. So, by doing this, we actually can offer a mid-term solution because the pricing point is getting a little bit lower than high end, extremely high-end solutions, right? And we have more people capable of doing that. And that's key for the mainstream."
For the latest news, videos, and podcasts in the IoT Industry, be sure to subscribe to our industry publication.
Follow us on social media for the latest updates in B2B!
Twitter – @IOTMKSL
Facebook – facebook.com/marketscale
LinkedIn – linkedin.com/company/marketscale
Latest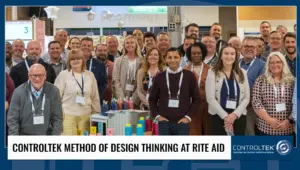 December 4, 2023
The video showcases a dynamic workshop titled "CONTROLTEK Method of Design Thinking at Rite Aid," highlighting the collaborative and innovative efforts between CONTROLTEK and Rite Aid teams. It features scenes of brainstorming, prototype development, and group discussions, emphasizing CONTROLTEK's customer-centric approach to problem-solving and innovation in retail solutions. The workshop demonstrates how cross-functional teams […]
Read More