Using VR In Maintenance Training
Within the training community, virtual reality (VR) is increasingly used to train professionals in a spectrum of fields. And few fields stand to benefit from the technology as much as maintenance, since VR can be used to demonstrate concepts without putting workers at risk.
VR is a natural fit in smart factories, but it does come with challenges that might prevent it from becoming an industry standard. And modern virtual reality enables simulated transportation to plant environments so real that training in the virtual realm is nearly as effective as in the real world.
Latest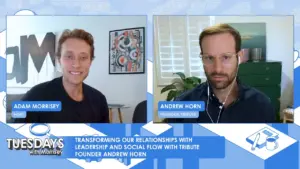 November 28, 2023
Can relationships be transformed through leadership and social flow? Navigating the intricate web of digital relationships can be a tricky proposition. Tuesdays with Morrisey's Adam Morrisey uncovers the transformative impact of emotional recognition in the workplace with Andrew Horn, the mastermind behind Tribute. This podcast edition unravels the story of a platform redefining how […]
Read More