Dig Your Heels In: A Working Woman's Series with Rachel Neill
As any parent knows, keeping kids occupied without using technology can prove to be quite challenging. Screen time continues to be on the rise with the increase in computers and smartphones replacing textbooks in the classroom. The global pandemic brought this to a head with quarantines and school closures necessitating the use of technology to facilitate learning.
Rachel Neill, Co-founder, and CEO of Figgy and veteran parent of six children became inspired by the dilemma parents were tackling throughout the pandemic – how to keep kids engaged and active while stuck at home without using technology?
"During the pandemic, I realized that there was a need to keep kids active and busy while parents were trying to navigate working from home. So, I launched Figgy on Kickstarter and we had a really successful campaign and it shot off from there," explained Neill. Figgy supports active playtime with infinite possibilities while being easy to clean and very fashionable.
But what gave Neill the courage to start her own business, and what drives her to succeed as a female leader and entrepreneur as she balances being a mom and running a business? It all began when Neill became a mother at the age of 16. She put herself through college and got a full ride to law school. Neill became adept at creating paths to get what she wanted. Her tenacity came from the knowledge that someone was depending on her.
"You only need one yes," is one of her favorite sayings. Even today, she admits there are challenges to balancing motherhood and her work but she focuses on putting one foot in front of another.
This is more important than ever to support gender equality in the workforce. According to a 2022 study published by Statista, female CEOs increased from 1.6% to 4.6% from 2004 to 2018. And while that is progress, there is still a massive discrepancy with males leading the vast majority of businesses. So, how do we continue to work towards a more balanced workforce?
"We need more role models. We need the women who have made the progress and helped that statistic go up to really encourage and share with other women that this is a possibility and something that they can do," stated Neill.
And, if you can't find the opportunity that you are seeking, create it! Entrepreneurship is a great way to go for women who want to blaze their own trail and turn their leadership dreams into reality.
Even though many have returned to a routine that more closely resembles pre-pandemic life, many parents are still working from home or simply looking for fun ways to support good old-fashion playtime.
Figgy checks all the boxes.
Latest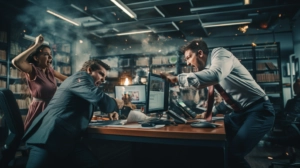 September 22, 2023
The kind of news that is delivered everyday serves as a grim reminder of the escalating violence across the U.S. Evidently, the need for proactive measures to ensure safety has never been more pressing. Such violence is not limited to any particular locale. It's actually permeating in so many different areas once considered […]
Read More