Dig Your Heels In: A Working Woman's Series with Amber Clore
When it comes to the world of interior design, Amber Clore, Owner of A.Clore Interiors is recognized as one of the best. Having found her passion at a young age, Clore spent her early days working on home projects while her peers were hanging out at the local playground. Clore graduated from Florida State University and opened the doors of her interior design business in 2012. Since then, she has developed an impressive list of clientele including "NBA and NFL athletes, Elected Officials, and Disney/Celebration Resorts" to name a few.
Additionally, Clore's work "has been showcased on several design shows and renowned media outlets like HGTV, Houzz.com, Fox35 Good Day Orlando, and more." Her success lies in her founding philosophy and belief in the power of design. Helping clients all over Florida in "creating spaces and environments that uplift and are healthy and safe and of course, attractive. That's the cost of me calling myself an interior designer. It's about really harnessing and helping families and business owners to create spaces that really uplift and match their personalities," said Clore.
Her impressive resume in this competitive industry dominated by male leaders speaks for itself. According to Zippia, "72.7% of all Interior Designers are women, while 22.4% are men." However, stats also note that only 30% of firm leadership roles are filled by women. Clore acknowledges these statistics stating that "first I say, as far as to the mostly women and a few good men, that's what we say in a room full of interior designers there are just a few good men that will stand out.
But I think that interior design is very creative, and it doesn't matter if you are male or female. I think creative energy flows through all of us. So, if somebody harnesses the fact that interior design is their niche or their career path, then I promote that no matter what."
Clore goes on to discuss the difference in statistics between the residential and commercial sectors noting that a lot of engineering and architectural positions as well as leadership positions in both sectors are held by men. So, how does a woman advance within the design industry and where can they find guidance in developing robust careers that lead to leadership roles?
The answer lies in finding role models who have been down the path and achieved success at the leadership level. The saying "you can't be what you can't see" is something most women in the design field are probably familiar with. "Women designers aren't getting the same recognition as their male counterparts, nor the same opportunities for progression and promotion—in part because they have so few role models in those positions" (Inside Design).
Clore understands these challenges and as a successful leader and business owner works to help others achieve their goals. "I think it's kind of that leg up, helping you helping each other up the hill in a sense while understanding that men and women have different strengths. What I do think men and women within the design industry have in common is decisiveness and resiliency."
And this is where Clore believes design professionals can come together, regardless of gender identity, to continue working to transform the industry into a more equal playing field.
Latest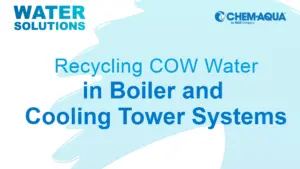 December 7, 2023
For the latest episode of ChemAqua's Water Solutions podcast, the focus was on an innovative approach to water conservation in the dairy industry. The show examined the potential of reusing Condensate of Whey (COW) water, a byproduct of dairy processing, and highlighted some of its economic and environmental benefits. Hosted by Dani Waddell, the informative […]
Read More