Boon Edam's Constant Journey Toward Lean Manufacturing
Lean manufacturing has become a buzzword in the production space over the last several years.
Everyone wants to be the most productive. But, for Patrick Nora, President and Managing Director of Boon Edam Manufacturing USA, lean manufacturing as an ideal doesn't matter if that productivity doesn't follow on from safety and quality.
"For us at Boon Edam, I wouldn't say we are a lean manufacturing facility. I would say we are a facility that's working toward lean manufacturing principles," Nora said. "I think, for me, I define it as being on a journey, and it's a goal that you will never achieve. You're going after operational excellence with lean manufacturing process. It's really important to view it that way, because lean manufacturing is building a learning culture."
That education can go both ways. While Boon Edam's leaders have plenty of expertise and experience (Nora worked for 15 years as a consultant, implementing more than 100 operating systems for different companies), they also make sure to leverage the knowledge those actually working in the facility have, as well.
"Respect for people is one of the values that guides our lean manufacturing, and it's really a belief that the people doing the job know the most about that job and most about how to improve it," Nora said. "If you're not engaging the people doing the job, you're missing opportunity. That's a fact."
Nora and Boon Edam continue to look for every way to leverage the resources they have on that constant journey toward lean manufacturing.
Follow us on social media for the latest updates in B2B!
Twitter – @MarketScale
Facebook – facebook.com/marketscale
LinkedIn – linkedin.com/company/marketscale
Latest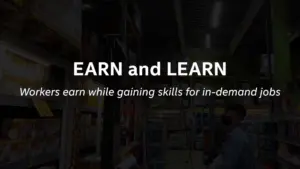 November 30, 2023
Faced with a significant workforce training gap, America is seeing a rise in innovative solutions, notably the earn and learn programs. These initiatives are pivotal in addressing the disconnect between available jobs and the skills of the workforce, particularly benefiting those without a four-year college degree. SkillPointe emerges as a key player in this […]
Read More