The Future of Additive Manufacturing Seeks Talent for Growth
The bright future of additive manufacturing creates a tectonic shift in the manufacturing industry. This innovative process, which builds 3D objects layer-by-layer from a digital model, redefines how products are designed and produced and are poised to transform the very structure of industries.The stakes are high; in a recent announcement, Siemens confirmed plans to invest 2.2 billion euros into ramping up their global additive manufacturing capacities. As such, the critical question now is how companies can embrace the future of additive manufacturing as a crucial component and how they can foster the talent and skills needed to navigate this brave new world.
Additive manufacturing is the probing issue under scrutiny in the latest episode of DisruptED Advanced Manufacturing Edition, hosted by Ron J. Stefanski. In this second installment on the disruption in additive manufacturing, Steve Vosmik, the Head of Additive Manufacturing at Siemens, rejoins Stefanski to continue their conversation about the future of manufacturing and additive manufacturing's role.
Their discussion includes the following highlights:
The impact of additive manufacturing on traditional manufacturing practices and the emerging trend of the innovation hub model
The crucial role that talent and skills play in the age of additive manufacturing and how educational institutions and industry can work together to cultivate the necessary expertise
The importance of passion, perseverance, and adaptability in the constantly evolving landscape of additive manufacturing
Steve Vosmik is a man of exceptional determination and creativity. His non-traditional path to additive manufacturing offers a unique perspective on the industry. Despite not having an engineering background, Steve has spearheaded Siemens' efforts in additive manufacturing. His wealth of experience and keen insights into this disruptive technology make him a voice to heed in advanced manufacturing.
Join Stefanski and Vosmik as they delve into the potential of additive manufacturing, explore how it's reshaping industries, and discuss the role that passionate, persistent, and tech-savvy individuals will play in this manufacturing revolution.
Latest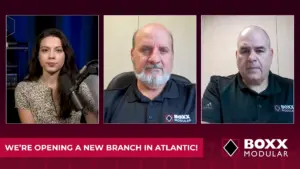 December 4, 2023
In an era where construction innovation is reshaping the industry, modular construction's growth continues to rise. In this episode of Built Modular, Boxx Modular's strategic expansion into Moncton, Atlantic Canada takes center stage. Host Gabrielle Bejarano welcomes Charles Landry and Ray Girouard to explore the implications of this venture. Bejarano, Landry, and Girouard discuss […]
Read More