The Future of Fossil Fuels with Best-Selling Author Alex Epstein
In this episode of E2B: Energy to Business, host Daniel Litwin speaks with Alex Epstein, New York Times best-selling author of "The Moral Case For Fossil Fuels" (2014) and "Fossil Future: Why Global Human Flourishing Requires More Oil, Coal, and Natural Gas–Not Less" (2022), and Founder of the Center for Industrial Progress, about the past, present, and future state of fossil fuels and why they are essential to human flourishing.
Most listeners are aware of the push to transition to green energy in the U.S.; however, what they may not know is that the green energy narrative perpetuated by the media, politicians, and green energy supporters doesn't address the significant impact that fossil fuels have in societies worldwide. So, it's time to expand our understanding of the energy conversation and what role fossil fuels play in the short- and long-term of human development.
Epstein has plenty to say about that having become the world's leading champion of fossil fuels. His journey to his current fossil fuel passion would surprise some. With a background in math and science, including work in computer science at Duke University, Epstein is on a different track.
"There was no expectation that I would ever go into energy, let alone fossil fuels," Epstein says. "I certainly had no love for the energy industry. I grew up in an anti-fossil fuel environment. I didn't learn anything positive about fossil fuels into my early 20s."
However, his background in philosophy led him to question the narratives around fossil fuels and bring balance to public discourse on the topic. In his 20s, he became curious about the reasons behind the continued use of fossil fuels when they were supposedly so awful.
Epstein notes that most people become very educated about certain topics such as the benefits and side effects of prescription drugs but when it comes to fossil fuels the narrative is predominately negative. In fact, the omission of the benefits fossil fuels brings to societies around the world is quite dangerous as there are many undeniable facts about the role fossil fuels play worldwide. For example, fossil fuels are essential to food production (i.e., fertilizer derived from petroleum). Another undeniable fact is that fossil fuels are a cost-effective and reliable energy source.
Cost-Effective Source Of Energy
"Fossil fuels today are a uniquely cost-effective source of energy, meaning they provide low-cost reliable energy for every type of machine on a scale of billions of people in thousands of places," Epstein explains. "Specifically, they provide 80% of the world's energy and most importantly, that energy usage is growing particularly in the parts of the world that care most about cost-effective energy such as China."
Cost-Effective Energy Is Desperately Needed
Epstein shares some interesting facts noting that of the six billion people in the world, approximately "three billion use less electricity than a typical American refrigerator." And "two billion use wood and animal dung as their primary fuels for heating and cooking."
Cost-Effective Energy Is Essential For Human Flourishing
"The more cost-effective energy is, the more people can use machines to be productive and prosperous," Epstein says. He also notes that humans are very inefficient without machines speaking to the critical nature of farm machinery in working crops where tasks can be completed much faster than if manually completed by people.
And in contrast to the current conversation around the need to transfer to green energy sources to protect people from the dangers of climate change, Epstein posits the fact that the rate of human death from climate-related deaths is down 98% over the past 100 years because of fossil fuel and the machines it fuels.
For more insights on why fossil fuels are crucial for human flourishing or to keep current on relevant energy trends, you can follow Epstein on Twitter and LinkedIn and subscribe to his "Energy Talking Points" blog HERE.
Latest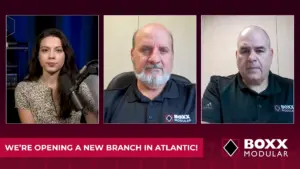 December 4, 2023
In an era where construction innovation is reshaping the industry, modular construction's growth continues to rise. In this episode of Built Modular, Boxx Modular's strategic expansion into Moncton, Atlantic Canada takes center stage. Host Gabrielle Bejarano welcomes Charles Landry and Ray Girouard to explore the implications of this venture. Bejarano, Landry, and Girouard discuss […]
Read More