Innovating Concrete Forming: Gates & Sons' Journey from Twisted Wire Ties to Custom Solutions
Discover the story of Lee Gates Sr., the visionary founder, who introduced the twisted wire tie—an innovation that revolutionized concrete construction. Witness how Gates & Sons' commitment to excellence and responsiveness to clients' evolving needs have shaped the company's identity as an American-made product manufacturer. Explore their wood-based forming systems that empower clients to adapt forms to the job, rather than the other way around, fostering efficiency and precision.
Join us as we highlight the company's dedication to providing timely solutions, even for specialty products, and their seamless integration of customer feedback into their product lineup. Gain insights into how Gates & Sons' familial atmosphere fosters a culture of collaboration and trust, extending to their valued clients and partners.
Experience firsthand the passion and commitment that drive Gates & Sons to play a vital role in building cities and infrastructure across the nation. From custom solutions for unique shapes to reducing labor times and enhancing concrete quality, this video showcases how Gates & Sons continue to push boundaries, one innovative concrete form at a time.
Latest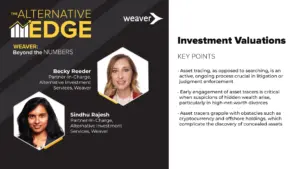 December 4, 2023
In this episode of The Alternative Edge, a Weaver: Beyond the Numbers Podcast, host Becky Reeder, an audit partner and co-leader of the alternative investments practice at Weaver, engages with Sindhu Rajesh, an Alternative Investment Services Partner with Weaver. They unpack the complexities of venture fund valuations, offering critical insights into industry dynamics and best […]
Read More