Inductotherm Group Taiwan Unveils High-Tech and Energy-Efficient Industrial Induction Solutions for Local and Global Market
Inductotherm Group Taiwan, a US-invested company based in Taiwan, recently detailed its comprehensive suite of industrial induction solutions in a company overview video. A leader in the development of world-class equipment locally, the company is committed to driving cost efficiency, enhancing equipment quality, and ensuring top-tier maintenance services for its customer base.
Over its 37-year history, Inductotherm Group Taiwan has manufactured some of the most advanced equipment for the Taiwanese market, including forging, casting, welding, texturing, heat treatment, vacuum heating, and vacuum melting tools. In addition to producing globally competitive equipment, the company is also dedicated to offering the most energy-efficient solutions, contributing to reducing production costs for its customers and promoting environmental sustainability.
As a key player in the global industrial landscape, Inductotherm Group Taiwan recognizes the increasing demand for efficient, smart, and automated industrial induction solutions. To this end, the company has refined its energy-efficient induction melting furnaces and offers automatic melting and intelligent management systems. These advancements enable Taiwanese foundries to reduce manpower requirements and prepare for a future driven by smart production.
In the words of a company spokesperson, "Our engineering team, comprising ten dedicated engineers, stays committed to maintaining our market-leading position by providing process requirements and customized solutions to our customers."
Understanding that exceptional customer service is pivotal for business success, Inductotherm Group Taiwan has established a dedicated customer service department to cater to its expanding customer base. The new setup allows for a more direct channel of communication and feedback, ensuring that customers can operate their high-quality equipment seamlessly to produce and deliver products every day.
Looking forward, Inductotherm Group Taiwan will continue to stay closely connected to its customers' production sites, gaining a thorough understanding of their needs. The company is determined to exceed customer expectations by continuously innovating and developing intelligent, energy-saving products. These efforts are set to strengthen Inductotherm Group Taiwan's position as a reliable backbone for Taiwan's metal manufacturing industry.
In essence, Inductotherm Group Taiwan's mission of delivering high-quality, energy-efficient, and innovative industrial induction solutions, coupled with its unyielding commitment to superior customer service, sets a promising trajectory for Taiwan's industrial sector and its customers worldwide. The future certainly appears brighter, with continuous innovation and relentless pursuit of efficiency and productivity at its core.
Latest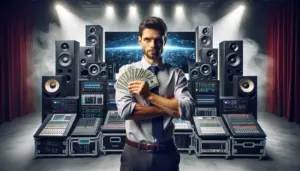 December 8, 2023
Mastering AV sales strategies in a global professional audio-visual (Pro AV) market, poised to reach $79.2 billion by 2028, requires much attention to detail. The surge in demand from corporate, government, and institutional sectors, driven by the need for enhanced productivity and efficient working environments, gives AV sales pros a lot of opportunity. In […]
Read More