Inductotherm Group Europe: Powering Forward with Induction Melting Excellence
Inductotherm Group Europe, a prominent player in the field of induction melting equipment, continues to solidify its leadership position by evolving and expanding to meet growing customer demands. By significantly increasing its manufacturing area by thirty percent, Inductotherm Group Europe exhibits its readiness to produce larger equipment and cater to a burgeoning market need.
Jon Stear, Managing Director, Steve O'Leary, Company Director, Daniel Fairest, Financial Director and Andrea Popham, HR Manager shares some information on Inductotherm Group Europe.
Maximizing Efficiency: Targeting Decarbonization Goals Inductotherm Group Europe's power configurations are meticulously designed to maximize both efficiency and productivity. This focus is particularly relevant in the current climate, where targets and milestones for net-zero emissions and decarbonization are at the forefront of industry considerations.
Decades of Experience: Local Support, Global Knowledge With over seventy years of global experience and fifty years of manufacturing expertise in the UK, Inductotherm Group Europe combines in-house manufacturing and engineering to support local customers. The company's broad reach extends across Europe, comfortably handling twenty-seven languages, and catering to diverse customer needs.
Apprenticeship Schemes: Bridging the Gap Understanding the invaluable nature of its wealth of experience and skills, Inductotherm Group Europe has embraced apprenticeship schemes as a way to pass on critical knowledge. By pairing new employees with seasoned experts, the company ensures continuity and growth in delivering excellent services to customers.
Tailored Solutions: Customer-Centric Design Leveraging its vast expertise in furnace design, Inductotherm Group Europe has the capacity to engineer specific solutions tailored to each customer's requirements. The company's ability to modify furnace designs and customize solutions testifies to its commitment to customer-centric innovation.
Comprehensive Testing and After-Sales Support Inductotherm Group Europe goes above and beyond in ensuring product quality and customer satisfaction. All manufactured furnaces are thoroughly tested on-site before installation, guaranteeing that customers receive top-notch, reliable equipment. This dedication extends to its after-sales support, providing unmatched assistance to clients post-purchase.
Market Adaptability: Evolving with Industry Needs As market dynamics fluctuate year by year, Inductotherm Group Europe has consistently proven its ability to adapt and evolve to meet these changes. By closely monitoring market trends and adjusting their offerings accordingly, the company has remained a reliable partner to its diverse clientele across Europe.
In conclusion, Inductotherm Group Europe embodies a forward-thinking approach in the induction melting equipment industry. With a strong commitment to efficiency, customer service, and innovative design, the company is positioned to continue its leadership journey, powering forward in an ever-evolving industry landscape.
Latest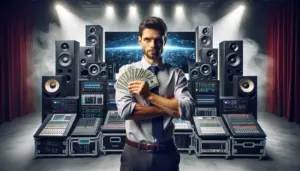 December 8, 2023
Mastering AV sales strategies in a global professional audio-visual (Pro AV) market, poised to reach $79.2 billion by 2028, requires much attention to detail. The surge in demand from corporate, government, and institutional sectors, driven by the need for enhanced productivity and efficient working environments, gives AV sales pros a lot of opportunity. In […]
Read More