A Tour of Wuxi's Advanced Manufacturing Facility: An Epicenter of Innovation and Quality
Today on the show, we invite you to a virtual tour of the Wuxi factory, a colossal manufacturing facility sprawling over 60,000 square meters. The site is a buzzing hub of engineering, sales, service, and installation services, driven by the diligent work of over 450 employees.
Facilities and Global Supply Chain: The Wuxi plant boasts a 6,000-square-meter independent warehouse, run by an efficient operation management team, supported by a robust and mature global supply chain. This network enables immediate procurement of materials from all over the world, vital for timely manufacturing and ensuring a reliable supply of spare parts.
Diverse Applications: Our equipment and technologies find versatile use in multiple supply chains, including electric vehicle manufacturers for parts and batteries, wind power generation, and even steel mills where we're replacing traditional glass furnaces with cutting-edge electric heating solutions.
Continuous Innovation and Rigorous Quality Control: We thrive on continuous improvement and innovation, consistently updating and optimizing our equipment to keep pace with modernization's rapid strides. Quality is the bedrock of our market standing. Consequently, all our finished products undergo rigorous performance and quality tests in our test area, including a 24-hour waterway pressure retention and full power test.
Full Life Cycle Management and Customer Support: Our commitment to customers extends beyond mere product delivery. We offer full life cycle management, digital analysis, replacement of spare parts, equipment upgrades, customized preventive maintenance, as well as training programs and technical support. We ensure that all finished products are 100% qualified before they reach our customers.
Energy-Efficient Design: Our engineering team specializes in creating preliminary designs that ensure reduced energy consumption during equipment operation. These high-quality products are designed to meet specific customer process requirements.
Leading the Pack: Since 1953 Inductotherm Group, the parent company, has been an industry leader. From the first VIP power supply to dual-track and multi-track power supplies, as well as Therma Tool's haze control technology welding, we've remained at the forefront of technology.
Commitment to Efficiency, Quality, and Customer Satisfaction: Our collective efforts in China aim to continually improve production efficiency, increase capacity, ensure quality, reduce costs, and shorten delivery times to cater to customer needs. Our service engineers interact effectively with users during the equipment installation phase, providing the best solutions drawn from our vast experience with thousands of sets of equipment in the Chinese market. We have rooted ourselves in the Chinese market over the last 20 years, always upholding the principle of putting the customer first.
Ensuring Quality and Efficient Customer Service: Our commitment to quality is unwavering, as we ensure all our finished cabinets and equipment undergo strict quality inspection. We offer full equipment life cycle management, data analysis, spare parts replacement, preventive maintenance, equipment upgrades, and technical support.
We provide our customers with a full range of services 24 hours a day, striving to solve their problems promptly. Our efficient storage management systems and fast delivery systems, backed by ample spare parts warehouses, are designed to reduce customer downtime. Through customer visits and big data analysis, we customize preventive maintenance plans and spare parts lists to alleviate customer concerns.
In conclusion, our manufacturing facility, Wuxi factory stands as a testament to our commitment to delivering high-quality, innovative solutions that meet our clients' evolving needs. We strive to improve, adapt, and innovate, maintaining our position at the forefront of technology and customer satisfaction.
Latest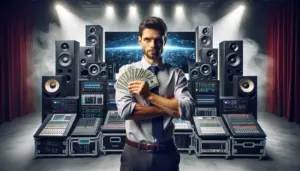 December 8, 2023
Mastering AV sales strategies in a global professional audio-visual (Pro AV) market, poised to reach $79.2 billion by 2028, requires much attention to detail. The surge in demand from corporate, government, and institutional sectors, driven by the need for enhanced productivity and efficient working environments, gives AV sales pros a lot of opportunity. In […]
Read More