Thermatool: Seven Decades of Technological Excellence in the Tube and Pipe Industry
Thermatool, a stalwart of the tube and pipe industry, has over seventy years of experience delivering high-value products and exceptional service to its customers worldwide. As part of the Inductor Thermo Group, the company has set industry standards with its distinctive focus on precision, reliability, and customer-centricity.
Elik Dvorkin, Director of Technology, Mike Nallen, President, Kris Livermore, Director of Business Development, Sasha Tupalo, Manager of Termatool Labs, Kevin Odell, Senior Mechanical Engineer shares more about the company, Thermatool.
Thermatool's product lineup comprises three main products: high-frequency electric resistance welders, induction heating equipment, and precision metal cutting machinery. These tools are purpose-built for continuous or semi-continuous production applications, demonstrating the company's niche technological focus.
The Thermatool Difference: Custom-Built Solutions and Services A key differentiator for Thermatool is the Custom Frequency Induction (CFI) high-frequency welder, specifically designed for tube and pipe producers. This technology provides a stable welding frequency and power integral to Thermatool's design. The result is a machine that enables customers to produce the highest quality welded tube and pipe across diverse materials.
The company's commitment to providing personalized solutions extends beyond its products. Recognizing the unique challenges customers may face in tube making and the high-frequency welding process, Thermatool provides guidance on initial process parameters for novel materials. This support saves customers valuable time and resources in developing new products.
Alpha: The Marriage of Design and Technology An important aspect of Thermatool's offerings is the Alpha cut-off units. What separates Alpha from its competitors is its remarkable marriage of sound machine design and exceptional die-set technology. The patented die sets deliver dimple-free cuts, with adjustability to suit various tubing materials. This results in optimized shear blade life, translating into lower costs per cut and significant savings for customers.
The Power of Software and Connectivity Thermatool is continuously innovating to improve its customer experience and outcomes. Its software controls evolve regularly, aiming to enhance customers' yields, reduce operator workloads, and provide detailed information to boost productivity.
Thermatool's customer portal is a key part of this innovation. Customers can access product documentation, parts, consumables tooling, and maintenance videos. Going forward, all Thermatool machines will be internet-connected to the portal, enabling customers to monitor their machines, evaluate process parameters, and receive preventive maintenance recommendations.
Customer-Centric Training and Support Understanding that each customer has specific needs, Thermatool provides personalized training that covers everything from the basics of high-frequency welding to in-depth training on metallurgy and troubleshooting. This training is tailored to all levels of a customer's team, from maintenance and operators to quality managers and engineers.
The company also boasts a large and experienced field service organization, capable of responding swiftly to customer needs. This ensures that customers enjoy the highest yield with the lowest scrap levels and continuous support throughout the life of the machine.
Looking Ahead: Thermatool and the Energy Future Thermatool is not just looking to sustain its current success but is actively preparing for the future. Its products are being used to produce components for natural gas extraction, transmission, and power generation. Moreover, the company is gearing up for a hydrogen-augmented energy future and is deeply involved in the production of products for solar field support structures and electric vehicle battery cells.
Thermatool's seven-decade journey is a testament to the power of relentless innovation, customer-centricity, and exceptional service. Its dedicated employees work tirelessly to make a difference in the world, shaping not only the tube and pipe industry but also the broader landscape of sustainable energy solutions.
Latest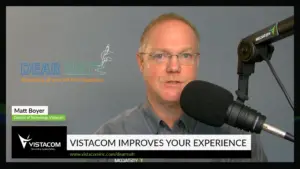 December 11, 2023
In a time when the AV industry supply chain faces unprecedented challenges, understanding its current status and future trajectory is crucial. In this week's segment of "Dear Matt," presented by Vistacom, host Matt Boyer, the Director of Technology at Vistacom, brings his over 30 years of experience in the audiovisual industry to the status […]
Read More