The Deployment of IoT Over Cellular Networks
There is a gap between the promise of IoT and what is getting delivered. Some of the shortfalls could stem from the supply chain. Solution? Ivo Rook, COO, President at 1NCE, said the answer could lie in the effective utilization of cellular networks. 
The challenge with traditional cellular networks and IoT is compliance. "Cellular networks are built for phones," Rook said. "And the phone use case is completely different than the IoT use case. The second fundamental issue is that mobile networks are domestic, and IoT is a global business. So, we are waiting for the supply chain that is supposed to be universal and global, but actively is economically dependent on phones and domestic." 
Solving these challenges will take a change in thinking. "The network should be as easy and predictable as electricity," Rook said. "The real paradigm shift we must make is we need to find a way to make cellular networks behave as predictably as electricity around the world. Rook said networks should be simplified and not front-loaded with too much-customized functionality to make this change possible. "You need to dumb down the network to make it universal and put the functionality at the software layer that you put on top of it." 
Once the optimal network solution is in place, for many companies, the need for simplicity extends to device connectivity. 1NCE, as its name implies, provides one-time, ten-year connectivity for businesses. Rook said this is handy for installing devices in hard-to-access places, like truck fleets or smart city lighting, where having to re-connect to a device could prove problematic. "The fact that something is connected, and the customer doesn't even have to think about it, switch on or off or manage, that's the paradigm shift that we try to accomplish," Rook said. 
Latest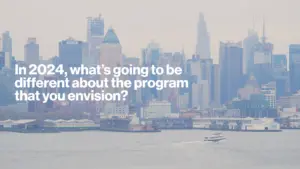 December 1, 2023
In the dynamic telecommunications landscape, Verizon's Partner Network continues to evolve, adapting to new trends and opportunities. For another segment featuring Mark Tina, VP of Indirect Channel Distribution and Channel Chief at Verizon Business Group, he explores exactly what types of significant changes and advancements the Verizon Partner Network will see in 2024. In this […]
Read More