The Science, Application, and Verification of UV-C Disinfection Systems
In this podcast episode of Making the Invisible Visible from Intellego Technologies, host Wendy Brady-Walling joins Steve Reinecke in a conversation about new applications with UV-C technology.
In the healthcare environment, touchscreens, tablets, keyboards, and other sophisticated monitoring equipment have helped advance the quality of patient care. However, these same high-touch objects can risk spreading pathogens because they are not easily and infrequently cleaned. In this episode, Steve and Wendy discuss how UV-C devices can be used to directly, regularly, and automatically irradiate high-touch electronic equipment used in the healthcare environment. Steve shares information on the studies that have been conducted and how UV-C can safely, effectively, and efficiently reduce pathogen colonization to mitigate the risk of infection.
Since the pandemic, there has been a heightened awareness of the importance of infection prevention, but it still hasn't translated into a reduction of Healthcare Acquired Infections (HAIs). Studies have shown that HAIs increased during the COVID-19 pandemic. Similarly, hand hygiene compliance did not see significant gains either. As society faces these ongoing issues, there's a demonstrated need for infection prevention methods that are engineered, autonomous and continuous solutions to treat objects like mobile phones, tablets, computer workstations, and keyboards that are easily contaminated and repeatedly touched.
Steve Reinecke explained the benefits of UV-C technology and expressed that it mitigates the issue of human error by automating disinfection.
"We see human error all the time with liquid products on the market. As the label claims, most liquid cleaning products require at least a few minutes of dwell time on surfaces to fully reach 99.9% effectiveness. However, they are rarely used as directed."
Using UV-C irradiation in concert with colorimetric indicators like those manufactured by Intellego Technologies allows users to verify that the UV-C device is producing germicidal energy and have visible evidence that a sufficient dose of irradiation has been delivered. UVC Dosimeters are essential tools to validate, verify and support the credibility of UV-C as a safe, efficient, and effective tool for disinfection.
Latest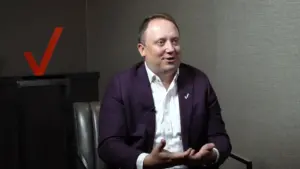 December 1, 2023
For a special episode of The Verizon Partner Network the focus was on the considerable role of partnerships in the Verizon Partner Program and the leaders shared their perspectives on the initiative. Their conversation brought about a lot of thought-providing context on the evolving telecommunications landscape. In today's era, collaboration and integration are key to […]
Read More