Fiberside Chat (3-GIS): Automation is not autonomous. Why people are needed in data migration.
Stephen Hudak, senior GIS consultant for SSP Innovations in Centennial, CO. Hudak, has spent nearly a decade working in the field of GIS. While contributing to various positions, he has dedicated his time to working on enterprise software implementations and fiber optic data management systems. Joined with Hudak is Kevin Harrelson. Harrelson is the Production Manager of the Data Team for 3-GIS in Decatur, AL. Having worked in GIS for twenty-five years, his tenure with 3-GIS data migration spans nearly a decade.
Many companies struggle to keep up with the latest technology. Hudak and Harrelson agree that customers want fast and clear communication to see if their designs are working and accessible. GIS permits fast data automation for migration. Although manual methods seem like the quick and effective route, they produce significant risks to something going wrong and problem-solving. In the long run, automation saves time and money due to its ability with data migration "set and forget it" said Hudak.
Human in the Loop machine learning strategies keep humans active in building quality automation models by creating feedback touchpoints. Machine learning has allowed automation to take steps forward in efficiency compared to solely relying on a human.
Combining machine learning and human decisions can produce an ongoing evolution by integrating systems. Set up a system with a purpose and a plan. Depending on the problem, it comes down to a sliding scale between the human and machine work ratio. "The last thing you want to do is attempt to solve a problem, but you solve it in a way that creates more work than it's worth," said Harrelson. Human engagement allows for a comprehensive cost-benefit analysis within the data migration process. Machine learning is ultimately not an all-or-nothing game.
CONTACT:  
Kevin Harrelson, Production Manager at 3-GIS, kharrelson@3-gis.com  
Stephen Hudak, Senior GIS consultant at SSP Innovations, stephen.hudak@sspinnovations.com 
Visit 3-gis.com to see previous episodes, videos, articles, and other resources   
Subscribe to the podcast on Apple Podcasts and Spotify
Latest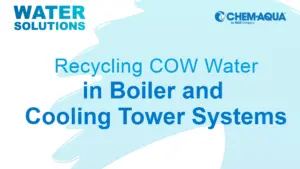 December 7, 2023
For the latest episode of ChemAqua's Water Solutions podcast, the focus was on an innovative approach to water conservation in the dairy industry. The show examined the potential of reusing Condensate of Whey (COW) water, a byproduct of dairy processing, and highlighted some of its economic and environmental benefits. Hosted by Dani Waddell, the informative […]
Read More