Tackling New Challenges with Lindsey Vonn
The rush of competition. Dedication to a singular goal. The unparalleled thrill of victory. These things drive professional athletes to push themselves well beyond the line where most of us would quit and turn back. The early morning workouts and carefully tailored lifestyle provide a structure and focus most of us couldn't fathom. 
But, as the saying goes, time remains undefeated and a career as an elite athlete is temporary. When your entire life has been focused on reaching a specific goal, how do you reorient your entire being when that goal is suddenly gone?
For Lindsey Vonn, a decorated Olympian and one of the most successful downhill skiers of all time, the possibilities are endless, but that doesn't mean the transition was easy. 
"When it finally came, it was still a hard transition, and everything that you've worked for your entire life is no longer something that you're working for," said Vonn. "You have to start fresh and it took me a bit to get into it, but it's been a couple of years now and I'm really happy with where I am and the progress that I've made personally and professionally."
Part of that progress involved writing a new book. Titled "Rise: My Story", Vonn chronicles her career and the lessons she learned along the way, both on the slopes and off. It's her hope that others can learn from her experiences.
"Hopefully it will help other people and inspire other people to overcome…whatever they're facing."
A crucial part of the adjustment process for many retired athletes is finding an outlet for all of their competitive energy. From coaching to broadcasting to investing, there are numerous examples of athletes taking up a new challenge when their days of competing are over. 
For Vonn, she has found the business world to be a challenge and an opportunity worthy of her time. But, what advice does she have for other athletes facing a similar transition? 
"Find what you're passionate about. Obviously, as an athlete, you're passionate about your sport, but when that's gone, you have to find a new passion," said Vonn. "You have to find something that challenges you, that excites you."
While Vonn won't be making headlines on the slopes anymore, it's unlikely we've heard the last from her as she chases the next challenge. 
Latest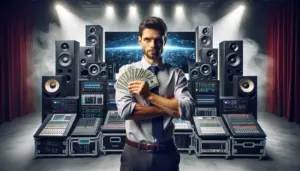 December 8, 2023
Mastering AV sales strategies in a global professional audio-visual (Pro AV) market, poised to reach $79.2 billion by 2028, requires much attention to detail. The surge in demand from corporate, government, and institutional sectors, driven by the need for enhanced productivity and efficient working environments, gives AV sales pros a lot of opportunity. In […]
Read More