Unlocking Potential: A Chat About First-Generation Students with Micah Johnson
In the land of higher education, first-generation students are sailing uncharted seas. Often, they are navigating without a family compass to guide them, and the stakes are high. According to the National Center for Education Statistics, as of academic year 2015-2016, 56% of undergraduate students are first-generation. These students face unique hurdles, and their potential is immense, but are they being fully supported?
As we explore this issue, we must ask: "What can we learn from first-generation students and how can their experiences inform better practices in higher education?"
This week on "Tuesdays with Morrisey," host Adam Morrisey sits down with Micah Johnson, the associate director of the Empower Me First program at the University of Miami. The show will touch upon Micah's personal journey as a first-generation student and how it shaped his career, the unique experiences and challenges of first-generation students, and the powerful impact programs like Empower Me First can have.
In this episode, you can expect:
An in-depth conversation on the intersection of Micah Johnson's personal experience as a first-gen student and his career in higher education.
A deep dive into the unique challenges and experiences that first-generation students face.
The exploration of how programs like Empower Me First are making a difference.
As the associate director of the Empower Me First program at the University of Miami, Micah Johnson advocates for underrepresented and first-generation students, providing them with resources and guidance. However, his journey began as a first-gen student himself, carving out a path in higher education. Micah's career started as a hall director, but his experiences and passion led him to his current role, where he makes a significant impact on students' lives.
Latest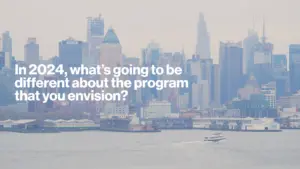 December 1, 2023
In the dynamic telecommunications landscape, Verizon's Partner Network continues to evolve, adapting to new trends and opportunities. For another segment featuring Mark Tina, VP of Indirect Channel Distribution and Channel Chief at Verizon Business Group, he explores exactly what types of significant changes and advancements the Verizon Partner Network will see in 2024. In this […]
Read More