From Garment to 3D: How Digital Fashion Came into the Spotlight

Digital fashion is the latest rage in the fashion industry at the moment. According to The Digital Speaker, in recent years fashion houses have been working with gaming developers to produce fashion in 3D. This trend has been around for a while, but it really picked up steam during pandemic lockdowns, says Forbes. As this form of fashion becomes more prevalent, companies that stood at the front of this innovative change, from 3D to garment, are continuing to spearhead it.
For the fashion companies that helped popularize digital fashion, what encouraged them to push forth the new concept? And what types of challenges does being a forerunner present?
The newest episode of "What Just Happened?" explores this subject with host Christine Russo interviewing Mickey LaRosse, the Head of Content and Strategy at The Fabricant — a company whose team she is also a founding member of. The two talked about the rise of digital fashion, how it's changing the fashion industry, and the future of it as it expands.
Russo and Larosse discuss…
● The pressures of being the "first" company in a new concept
● How collaboration is vital between Fabricant other digital fashion companies
● Fabricant's goal for the overall fashion industry and its future
Fabricant was founded in 2018 and was one of the very first fashion houses that was making fashion that wasn't on garment. Their motto has been digital-first since its inception, and that title has come with challenges, but also their goal to be
"Just declaring that garments didn't need to be physical to exist, four years ago, when this conversation wasn't being had by anyone, was quite a radical position to take," said LaRosse. "Our spirit and attitude has always been to be a disruptor, but a disruptor with intention."
Latest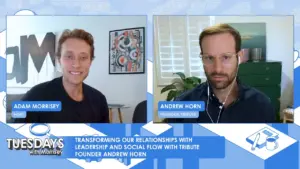 November 28, 2023
Can relationships be transformed through leadership and social flow? Navigating the intricate web of digital relationships can be a tricky proposition. Tuesdays with Morrisey's Adam Morrisey uncovers the transformative impact of emotional recognition in the workplace with Andrew Horn, the mastermind behind Tribute. This podcast edition unravels the story of a platform redefining how […]
Read More