3 Unique Characteristics of the House of Worship AV Market
The House of Worship AV market isn't just another cut and paste vertical in the industry. It's in a league of its own, defined by its very soul and community-driven focus. There's something special about the way churches approach technology, and it's about more than just the equipment.
So let's dive into three key areas that make them unique:
1. Volunteer Driven Workflows
We're talking about churches here, where your tech team might be your neighbor, your friend, or even your grandma. These volunteers are often the backbone of the church production crew, but many times they are not naturally gifted tech wizards.
That's where the need for simplicity and usability comes in. The goal with our installations is to make sure everyone can feel confident at the controls. Designing systems that are intuitive and repeatable isn't about dumbing it down. It's about respecting the operators' skills and making technology an enabler, not a barrier. There is power in simplicity.
2. Extended Installation Lifecycles
Churches and tech gear have something in common: they're both (usually) built to last. In the House of Worship market, it's not always about having the newest toys; it's about finding what works and sticking with it.
Function often takes center stage over flashy features, and that's okay. They are looking for something robust, reliable, and ready for the long haul. Planning for the future and making smart choices on the front end ensures that the technology will keep serving the community for years to come.
3. The Need for Extreme Scalability
From Christmas services to small scale weekly events, these setups need to roll with the punches. One size doesn't fit all, especially when we're talking about community gatherings that can range from intimate to enormous.
Versatility is the name of the game here. It's about building systems that can amp up for the big events but still feel just right for the smaller ones. Tailoring technology to these ever-changing needs isn't just smart; it's essential. The goal isn't to impress; it's to connect, inspire, and bring people together, no matter the scale.
—
When it comes to the House of Worship AV market, it's not quite business as usual. These places are more than just buildings; they're communities, and the technology we bring into them needs to honor that. We're talking about real people, often volunteers, working with technology that has to last and adapt to everything from Christmas to Sunday school.
It's not just about the gear; it's about supporting meaningful connections and spiritual experiences. That's what makes the House of Worship market not just unique but truly special.
—
For more about the House of Worship vertical, check out my interview below with Collin Jones from Pushpay on Pro AV Today
Latest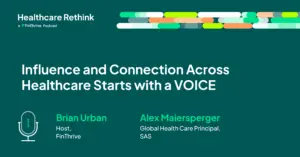 September 29, 2023
In the latest episode of the Healthcare Rethink podcast, presented by FinThrive, host Brian Urban sits down with Alex Maiersperger, the Global Principal Healthcare at SAS. Their conversation charts the role voice plays in influencing and connecting the healthcare industry. Maiersperger, who co-founded the Advancement League, shares his journey from being a healthcare optimist to […]
Read More