The Alamodome Has Upgrades Before The Final Four
San Antonio will be in the national spotlight starting on March 31, when NCAA Final Four comes to town, and the Alamodome is gearing up with upgrades.
The Alamodome on Friday revealed a $546,000 marquee, which can be seen from Interstate 37 and will surely get some camera time on national broadcasts.
The new, 24 feet long, 30 feet wide signage is "twice the size" of the previous marquee. It has a 480-by-600 pixel display, according to Alamodome officials.
The new marquee is just the latest upgrade for the arena, which also got two new huge video walls, a transformed northern plaza, upgraded concession areas, a 24,000-square-foot multi-use space and a new visiting team locker room.
Read the full article here
Latest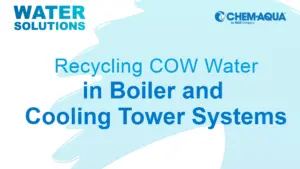 December 7, 2023
For the latest episode of ChemAqua's Water Solutions podcast, the focus was on an innovative approach to water conservation in the dairy industry. The show examined the potential of reusing Condensate of Whey (COW) water, a byproduct of dairy processing, and highlighted some of its economic and environmental benefits. Hosted by Dani Waddell, the informative […]
Read More