Top Trends in Wireless Collaboration as 2020 Dawns
It's not only the dawn of a new year, but of a new decade – as 2020 hits full-steam-ahead, it's more important than ever to keep your finger on the pulse of the trends driving the future of wireless collaboration.
To that end, here's a look at four trends to monitor to be sure you keep pace with the leading edge of wireless collaboration.
Increasing Adoption of Wireless Solutions
In 2020, further adoption of wireless connectivity solutions will take place.  According to Futuresource Consulting, the worldwide market for dedicated wireless presentation devices (excluding consumer) will be over 880,000 units — in simple terms, organizations are eliminating "cables on the table."
Organizations will continue to leverage unique and flexible meeting spaces, leaning on wireless solutions to enable meetings in both traditional and non-traditional spaces.  Organizations are looking to avoid last decade's tension between a desire for connectivity and the grounded nature of traditional conference rooms.
With a secure, easy-to-use wireless solution that doesn't require lugging around dongles and cables or connecting through a specific downloaded app necessary to make a solution work, this adaptability is increasingly possible. Instead of spending valuable time locating switches, cables, and dongles, end-users need native connectivity that simply works so they can get meetings started quickly and easily jump right into collaboration when the need arises.
Other technological innovations will improve in-room collaboration changing the landscape of wireless sharing solutions, but more importantly making the transition from wired to wireless easy, intuitive, and enjoyable.  Transitioning from proprietary collaboration tools formerly used in meeting spaces to common tools like Microsoft Office 365 will drive unified productivity across and between organizations making the transition from workspace to meeting space and vice versa totally seamless.
UC Rooms Continue to Grow Easier, Friendlier and More Comfortable
Cloud systems and interoperability between both cloud systems and other, more traditional UC platforms, should continue to expand as innovation continues, leading to even further integration between solutions and interconnect end-user experiences.
Most organizations will march forward with UC solutions, and many will equip a portion of their meeting spaces with dedicated UC room solutions.  Organizations should be careful to preserve the in-room experience for meetings with and without remote participants.  Therefore, the combination of UC and wireless display/collaboration solutions is the perfect complement for UC-equipped rooms.
As technology continues to march forward over the next year and beyond, UC rooms (and non-UC rooms) and their users will continue to feel the benefits of wireless.
AV and IT Team Tech and Talent Will Continue to Merge
The lines between audiovisual and IT teams are already blurring and increasing innovation will likely encourage closer collaboration on strategy and deployment between departments.
With truly wireless collaboration solutions, the same product that allows for seamless device sharing and effective and immediate collaboration with room displays also helps IT teams oversee network separation that keeps guests and employees secure during these critical sharing sessions.
That's merely one example of the increased need for collaboration between AV and IT teams – as innovations continue to impact wireless connectivity, the end goal of providing a seamless, integrated, dongle-and-app-free experience will need to be met by a combination of technology and talent.
Looking Ahead
Though the future of wireless collaboration is an exciting and promising one, challenges remain on the path toward total adoption of integrated, seamless collaboration solutions.
Privacy and security will remain key concerns, particularly for users, demanding solutions providers be mindful of every aspect of their connectivity solutions and how they can best alleviate those concerns to keep end-users safe without sacrificing ease of use and integration.
Further, as cloud and other connectivity innovations see widespread adoption, solutions providers will need to ensure their products are adaptable and scalable in a way that allows them to meet these growing expectations head on.
However, with a mind on tackling increased wireless adoption, integrated UC rooms, the AV and IT merger, leading wireless collaboration solutions are well positioned to deliver meaningful experiences, and better productivity outcomes for users.  Welcome to the decade of innovation, where experience, usefulness, and ease of use lead the way for modern workplaces and classrooms.
To explore ScreenBeam's wireless collaboration solutions for education, enterprise and residential spaces and get a trial today, visit screenbeam.com/forms/request-a-trial/.
Latest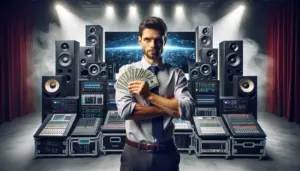 December 8, 2023
Mastering AV sales strategies in a global professional audio-visual (Pro AV) market, poised to reach $79.2 billion by 2028, requires much attention to detail. The surge in demand from corporate, government, and institutional sectors, driven by the need for enhanced productivity and efficient working environments, gives AV sales pros a lot of opportunity. In […]
Read More