Augmented Reality and the Information Revolution
The information age began in the 1990s. In the beginning, this period of history was marked by increasing access to information through personal computers and the internet. With a myriad of information available on smartphones today, this age in history is now focused on improving the way information is presented.
Technology like augmented reality (AR) makes receiving information more experiential, entertaining, and immersive. This affects the way information is being presented across multiple industries.
AR in Television Broadcasting
The Weather Channel made news in a different way when they shared a demo of their new Immersive Mixed Reality (IMR) technology. The tech reinvigorated the classic green screen by making it immersive and employing AR. A weather broadcaster can stand in what looks like the midst of a storm surge while the screen demonstrates what can happen in such an event in real time. This technology is expected to be used in 80 percent of the channel's programming by 2020.
AR in Publishing
In Europe, a newspaper is now merging its traditional print format with AR. Readers of the newspaper can point their phones at pictures in the sports section and have clips of the games played out in front of them. This opens the door for classic publishing to use AR so that readers have a more connected, immersive experience.
AR in Advertising
Marketing information is also getting more immersive through AR and virtual reality (VR.) Many home improvement stores offer apps that allow customers to visualize paint, appliances, décor, and more in their own homes before purchasing. L'Oréal Paris recently web-based AR makeup sampling.
AR for Training
Manuals and presentations have previously been mainline options for receiving training information in a variety of fields. Today, there are apps that integrate AR into training for better jump shots on the basketball courts. The medical field is also employing AR for surgical training.
The need to access and learn information is not going to subside. As AR and similar technologies continue to evolve, the way people receive information and the way information is presented is likely to become smarter, more immersive, and more technological.
Latest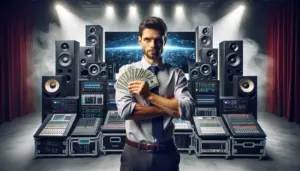 December 8, 2023
Mastering AV sales strategies in a global professional audio-visual (Pro AV) market, poised to reach $79.2 billion by 2028, requires much attention to detail. The surge in demand from corporate, government, and institutional sectors, driven by the need for enhanced productivity and efficient working environments, gives AV sales pros a lot of opportunity. In […]
Read More