AV Nightmares: June 26th
When AV applications are implemented into a space well, they can blend in as if the room was designed around it. When done wrong, those rooms may never look the same again, if they are habitable at all. We highlighted some of the AV industries lowlights in this week's AV nightmares.
If you have ever experienced a situation like this, first, we apologize. But make sure to tweet photos of it to @proavmkt to be featured in our next post!
PSA: You never let cable installers look at the back of your territory
What a sight for a Monday morning. Hopefully when we look at this on Friday it will look a bit different… #AVnightmare pic.twitter.com/1licB3NcM9

— McAllister AV (@mcallister_av) June 11, 2018
Lets just hope Indiana Jones isn't on this job…yikes!
https://twitter.com/UnifiedAV/status/883356273399529473
This truly belongs in a horror film…..no wonder it's in black and white.
#AVnightmare Another example of what never to do, nor accept from your installer.
This is an actual installation i… pic.twitter.com/LQ2w59eblm

— Sphere Custom Design (@SphereCustom) July 14, 2016
This one probably isn't a nightmare but we've all been here! I hope PSAV sees this, this happens at way too many hotel based conferences.
My second slide at #aua16 still up long after the talk has ended. #technologyfailure #avnightmare #bauspcnl pic.twitter.com/bRQflySlCg

— Oliver Wiseman (@OJWiseman) May 7, 2016
I'm not sure who thought this was safe…unless they are waiting for a certain animated roadrunner.
https://twitter.com/UnifiedAV/status/875727217472532480
This is at a technology university….you know what they say about those who can't do…
This an installation at a technology university. Yes that's right #avtweeps #liveinstall #AVnightmares #ultrathinbezel pic.twitter.com/pLn1vfB55Y

— Design Works (@DesignWorksTech) April 30, 2017
You can put a screen anywhere you want! (If you know how to plan ahead)
This is why you should always hire a professional installer! #Fail #AVnightmares #ThinkAboutIt pic.twitter.com/cM8BiTkd9p

— SpaceTV (@Space_Tele) July 2, 2015
I'm 90% sure that this is the opening paragraph to Harry Potter in Brail.
Found this while removing a tv today. I guess original installers did not have a stud finder. #notaudioworks #avfail pic.twitter.com/7IrLdSp8zE

— Neil A (@SmartFinish) May 25, 2016
If you stumble upon any AV Nightmares please submit them to us through the hashtag #msAVnightmares!
Latest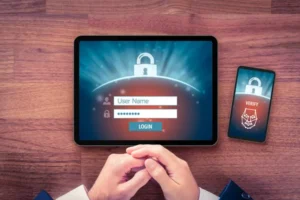 October 3, 2022
KEY POINTS: KEY POINTS: Attacks exploiting multifactor authentication are on the rise. Using MFA fatigue, attackers successfully breached Uber and Okta. Security measures like
Read more