Barco Lobby Re-Creates the Cinema Experience
An exciting innovation in the moviegoing experience is the Barco Cinema Lobby Experience. Cinemas can increase profitability while boosting concession purchases and encouraging advance ticket sales, while offering an unmatched lobby interactive experience.
Three key players in the development of this product recently explained their offerings in an interview at DSE 2018.
Robert Chaney, Product Applications Engineer for the Barco Lobby Experience, explained that the experience can take over up to 50 screens and use that canvas to entertain and engage with all customers at that site. All the work is done inhouse in partnerships with Ad Pod Network and Ultrahaptics.
Ad Pod's Dan Bennett described his company's offering as a digital interactive gamified content in a 3-sided kiosk. The technology features a camera utilizing facial recognition software to measure dwell time and engagement rates. The goal is to attract and interact and then connect, encouraging those who interact with the game to move to a mobile product to continue interacting. Ad Pod has increased dwell times to an impressive 20 to 45 seconds and beyond.
Ultrahaptics has also been part of the Barco 2.0 rollout, and representative Alex Driscoll Smith discussed how the technology delivers an immersive experience in which the poster projects sensations on the customer's hand as he approaches, allowing him to feel the motions of the images and even control character movements. The goal of this technology is to increase engagement, dwell time, and recall rates, which ultimately drives ticket sales and lowers operational costs.
The Barco lobby features four zones. The box office zone is aimed at high customer engagement and increased ticket sales. The features zone increases dwell time and creates a fully immersive environment. The concession zone offers dynamically managed menu items and features targeted promotions to drive sales. Finally, the posters zone has created digital interactive posters where there were once merely static images. The complete experience transforms the cinema lobby to an environment reminiscent of the stuff of movies, extending the magical experience of the motion picture from the theater to the cinema lobby.
Latest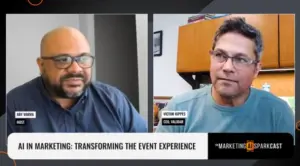 November 28, 2023
AI has been gradually changing the landscape of event technology at a very rapid pace. In an industry where staying ahead of technological trends is crucial, AI's impact on marketing and event management has become increasingly significant. As witnessed in the rise of account-based marketing and enhanced personalization, AI is effectively reshaping how events […]
Read More