Cincinnati Zoo Partners with Deva to Boost Park Safety and Enjoyment
Between the exotic animals and the kids running around looking at them, there is already plenty of noise at the Cincinnati zoo. For quality communication throughout the park, zoo directors needed an audio system that truly cut through the noise. They turned to Deva to provide a solution.
With 100 wireless Deva Powersoft units deployed throughout the park, the zoo is now able to play music, page guests and make announcements across the entirety of the park. Of particular interest to the Cincinnati Zoo's IT department is the Deva Control Panel app. From a single portal on a phone, users can adjust volume, monitor the performance of individual units and even customize levels for different areas of the park. While in the past, park staff adjusted loudspeaker volume manually from a physical control center, the app allows for instant adjustments to be made right when they're needed
"Innovation is one of our core values and something that we take very seriously," Chad Yelton, Vice President Marketing & Communications said. "It informs everything we do, from our sustainability program and our green initiative to how we build habitats, to the people that we hire and every event that we put on here at the zoo. The desire to innovate led our search for a better audio and security solution to Deva."
The new sound system has already made a difference to attendees of the Cincinnati Zoo's annual Festival of Lights and has helped ease the stress of dealing with park security matters. The zoo is even using Deva units with a camera to improve the park's video surveillance capabilities. Most importantly, the Deva Powersoft units give park staff the ability to make their guests' experience as safe and fun as possible.
Latest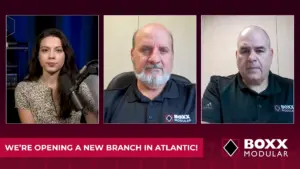 December 4, 2023
In an era where construction innovation is reshaping the industry, modular construction's growth continues to rise. In this episode of Built Modular, Boxx Modular's strategic expansion into Moncton, Atlantic Canada takes center stage. Host Gabrielle Bejarano welcomes Charles Landry and Ray Girouard to explore the implications of this venture. Bejarano, Landry, and Girouard discuss […]
Read More