Digital Directions: Leveraging Digital Signage to Create Future Flexible Workspaces, Part 1 of 2
There are many avenues to pursue related to the future workspaces and how the pandemic has forever changed the landscape of the way people work.
Doug Freutel, Vice President of Innovation and Visionary, Radiant Technology Group, offered up his perspective and insights on how digital innovations, specifically digital signage, will play a role in these future workspaces.
Freutel kicked off the first of this two-part discussion with some of the new business workplace challenges of the pandemic.
While some businesses sent employees home to work remotely, many essential companies needed staff on-site at the workplace. Social distancing and other safety and sanitation measures were required to keep employees healthy on-site. The next question was how to communicate all of these changes and procedures.
"Digital signage is a key portion of how to collaborate and communicate with employees effectively," Freutel said. "One of the terms I like using is 'future flexible.' If anything was learned from this COVID experience, the idea of future-proofing gets thrown out the window. One of the cool things about digital signage is that it can be future flexible. It can be adaptable."
During the pandemic, digital communication has already played a significant role in enterprise communications.
"It's been great with crisis management," Freutel said. "The CDC posted a bunch of jpegs and images that people could immediately throw on their digital signage.
"One of the great things is companies that have had to deal with their change management governance have been able to use signage for that."
Follow us on social media for the latest updates in B2B!
Twitter – @MarketScale
Facebook – facebook.com/marketscale
LinkedIn – linkedin.com/company/marketscale
Latest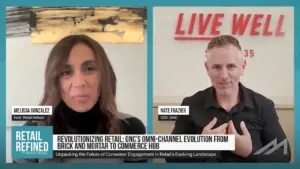 November 29, 2023
The transformation from a traditional brick-and-mortar store to an integrated commerce hub is crucial in the fast-evolving retail landscape. GNC's omni-channel evolution epitomizes this shift, blending in-person and digital experiences to meet the contemporary consumer's demands. But what does this mean for the future of retail? "Retail Refined," hosted by Melissa Gonzalez, welcomes Nate […]
Read More