Digital Directions: Leveraging Digital Signage to Create Future Flexible Workspaces, Part 2 of 2
Doug Freutel, Vice President of Innovation and Visionary, Radiant Technology Group, returned to Digital Directions to complete his conversation on digital signage as a way to help facilitate flexible workspaces. Fruetel picked things up where he left off, discussing the evolving workspaces of the future – one where work hubs may become the norm.
"How do we maintain capacity on how many people can come back?," Freutel said while discussing the future workspace. "You have that 40-45% of workers that want that hybrid situation. We don't need full-time desks for those people. But, when people come back, they want to be able to have those social engagements. So, if you split your group into two, and someone on team A, which is working Mondays and Wednesdays, wants to engage in person with somebody who's working on Tuesdays and Thursdays, you're eliminating that opportunity."
One of the things Freutel's team works with companies on is implementing proper flex workforce strategies. One strategy is a hoteling practice that allows businesses to see when teammates are available. This type of approach allows a manager to reserve a space that can either pull a whole team together, or at least a significant portion of the group, and then deploy collaboration tools to draw in the rest of the team.
"We see this evolution of instead of these cubicle farms and offices, we're redefining our spaces into what are called 'neighborhoods,'" Freutel said. "People are a part of a neighborhood and can book spaces and book desks and collaborate when they're involved in that neighborhood." Another consideration for businesses reopening and planning their future workspaces is vendors and guests.
"A lot of our customers have shut down their offices to vendors," Freutel said. "But we've got to get vendors back in. Obviously, a face-to-face meeting when you're trying to entertain a guest or you have to have a vendor come in; how do we safely bring them back? We're seeing a lot of implementation of new tools around getting people back into the office safely."
Follow us on social media for the latest updates in B2B!
Twitter – @MarketScale
Facebook – facebook.com/marketscale
LinkedIn – linkedin.com/company/marketscale
Latest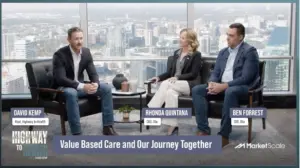 December 7, 2023
As of recent times, the healthcare industry has been progressively shifting towards value-based care, a model that emphasizes patient outcomes over the quantity of services delivered. This transition represents a significant shift that promises to enhance patient experiences and outcomes while controlling healthcare costs. With a growing emphasis on this approach, especially over the […]
Read More