DIGITAL TECHNOLOGIES AND PRIORITIES IN 2019
Digital transformation was a hot topic in 2018 and it is sure to continue impacting organizations in 2019. In fact, according to a Forrester Research survey, 46% of executives believe that in less than five years, digital will have an impact on more than half their sales. The World Economic Forum estimated that digital transformation has the potential to create as much as $100 trillion in combined value for both industry and society by 2025. There are several trends within digital transformation worth further investigation:
DIGITAL TRANSFORMATION CONTINUES AS A TOP PRIORITY FOR BUSINESS LEADERS
A recent Randstad study found that 95% of the 3,000 surveyed organizations felt a new type of leadership is required to adequately address changes in organizational structures and operating models due to digitalization. Rapid technological advances are causing companies to view this as an overall business priority, not just a technology or IT goal. To address this issue, an estimated 60% of CIOs are growing their budgets for analytics, machine learning, and data science according to Forbes.
AI WILL POWER MORE TOOLS FROM SEARCH TO DIGITAL COMMUNICATIONS
Consumers have embraced artificial intelligence through the use of virtual assistants like Apple's Siri, Amazon's Alexa, and other devices. But with the rapid advancements of IoT devices and AI chips, artificial intelligence will be used for a lot more than finding a song or predicting the weather. Chatbots such as Mya will help HR pre-qualify candidates for jobs and even automatically reject a candidate if you decide to pass on his or her application. In addition, these chatbots will allow companies to use virtual agents to solve customer service issues without having to pass off calls to a human.
POTENTIAL BLOCKCHAIN APPLICATIONS WILL CONTINUE TO GROW
Most of us think of blockchain as a way to create digital currency such as Bitcoin, but this only scratches the surface of its capabilities. Blockchain-inspired solutions can also be used to achieve operational efficiency by automating business processes or digitizing records. The applications that will be produced with blockchain technology in the near future have the potential to enhance the secure sharing of information among known entities, as well as improving opportunities for tracking and tracing physical and digital assets.
THE CONNECTED CLOUD WILL PRODUCE A MIX OF DIFFERENT CLOUD-BASED TECHNOLOGIES
Connected clouds are evolving to meet the varying needs of companies, whether they want cloud-source storage, networking, security, or app deployment. Public cloud providers like Amazon and Alibaba, for example, are now offering private cloud options as well. Providers are showing an increased commitment to connecting clouds so applications run seamlessly, secure, and streamlined. Finding the right mix of workloads running in public, private, and hybrid environments will be a big topic in 2019.
SMART SPACES FROM HOSPITALS TO OFFICES TO TRANSPORTATION AND MANUFACTURING CENTERS
A smart space is a physical or digital environment in which multiple elements––including people, processes, services, and things––interact to create a more immersive, interactive and automated experience for a target set of people and industry scenarios. This can be seen in the advent of smart cities, digital workplaces, smart homes, and connected factories. The creation of smart spaces is poised to accelerate rapidly and become an integral part of the daily life of employees, customers, consumers, community members, and citizens.
DIGITAL ETHICS AND PRIVACY: THE VALUE OF INFORMATION
Individuals, organizations, and governments are growing concerned about the use of their personal information by organizations in both the public and the private sector. Organizations must proactively address these concerns or face the inevitable backlash. This requires taking more action than just ensuring an organization is compliant with privacy laws. Digital ethics will be a hot topic as organizations learn to ways to handle privacy and information in 2019.
INCREASED USE OF DATA AND ANALYTICS ACROSS ALL PARTS OF ORGANIZATIONS
Augmented analytics use machine learning to transform how data is developed, consumed, and shared. Automated insights from augmented analytics will be embedded in enterprise applications, such as those used by HR, finance, sales, marketing, customer service, and procurement, to optimize the decisions and actions of all employees and automate the process of data preparation, insight generation, and insight visualization. In many situations, this will eliminate the need for professional data scientists.
Latest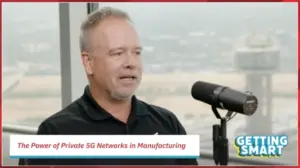 September 25, 2023
The Convergence of 5G and Automation in Manufacturing: A New Industrial Revolution The manufacturing industry stands at an inflection point. Advances in 5G technology and automation are coming together to transform the way products are made, and the role that humans and machines play in this process. Per Treven, Director of Business Development at Ericsson, […]
Read More