DistribuTECH 2018
DistribuTECH 2018 is in full swing at the Henry B. Gonzalez Convention Center in San Antonio, Texas. The conference features 326 utilities and over 13,500 professionals representing electric, gas and water companies from around the world. The industry's must-attend event provides attendees with information, products, and services related to electricity delivery automation and control systems, energy efficiency, cyber security, water utility technology and more. During his keynote address, Gil C. Quiniones, President and CEO of New York Power Authority, laid out his ambition for establishing the country's first end-to-end, all-digital public power utility.
Creating an "all-digital" public power utility requires collecting and analyzing data to reveal insights on improving building energy performance, reducing environmental impact, and lowering energy bills. To facilitate Mr. Quiniones's vision, NYPA created the Advanced Grid Innovation Laboratory for Energy (AGILe), which will position New York State as a global center for electric grid research. The collected data will be made available to partners through AGILe's "digital foundry" in order to help fuel new innovations that will optimize energy consumption, boost sustainability, and lower costs.
In his remarks, Mr. Quiniones mentioned how natural disasters cost billions of dollars in utility repairs and replacement, and that outages put human lives in jeopardy. A "smart" power grid will help pinpoint problems before they occur in order to reduce the financial expenses and human toll of disaster-related utility failures.
Narrow pixel pitch LED digital displays are helping bring the vision of an "all-digital" public power utility to life. These next-generation displays will ultimately serve as the backbone of data-informed decision making. Premier Dedicated Solutions (PDS) is a leading engineering partner for the world's largest construction, infrastructure and utility projects. Together with Premier Mounts, we are proud to attend DistribuTECH 2018 in support of our partners Planar/Leyard, AVI-SPL, and some of the world's foremost AV companies.
Read more at http://pdscustom.com
Latest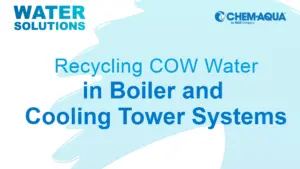 December 7, 2023
For the latest episode of ChemAqua's Water Solutions podcast, the focus was on an innovative approach to water conservation in the dairy industry. The show examined the potential of reusing Condensate of Whey (COW) water, a byproduct of dairy processing, and highlighted some of its economic and environmental benefits. Hosted by Dani Waddell, the informative […]
Read More