Drone Racing Is Here to Stay. How AV Has Made It Must See TV
Looking like something out of Blade Runner, professional drone racing is an exciting, sci-fi spectator sport. Small quadcopters, or "quads" (they prefer the term to drone thanks to the latter's military connotations) blast at over 80 MPH through brightly colored LED gates, avoiding obstacles and environmental challenges. The pilots of these "quads" have a first person view from their machine thanks to the VR-style headsets they wear. With all the bright lights, unique settings, and gripping viewing angles, professional drone racing is one of the more exciting developments in sports.
DRL, the official Drone Racing League, made its television debut in 2016, and it quickly found a cult following thanks to a good mix of novelty, timely technology, and exciting camera angles. In 2016 drones were still new and exciting for most people, the courses were colorful thanks to innovative use of LEDs and lightbars, and the DRL came up with a sleek aesthetic that somehow meshed perfectly with the abandoned factories and warehouses they raced in. Drone racing can now be seen in sports bars right up next to Monday night football.
With any sport comes a novel niche of technology and development. Drone racing requires its own special set of tools and technologies, but it builds upon currently available consumer tech. The DRL actually builds and repairs all of the drones for each race to the same specifications, keeping things fair and promoting more dramatic, skill based racing.
And it really is all about drama. The whole sport is designed to be exciting and spectator friendly. Drones carry Go-Pros to give fans a dizzying first person view just like the pilots. The sports characteristic colorful LEDs are used everywhere, from the color-coded gates the quads fly through to the lights on each drone that help spectators tell them apart. The courses are lined with light bars in different shapes and colors, that makes the darkened courses reminiscent of a space fight scene from a Star Wars movie. The show is particularly spectacular in one of the murky indoor courses where abandoned buildings are lit up like a grungy, techno-rave set on the Death Star. Other courses feel more post-apocalyptic and utilize Hollywood style special effects to create a truly one-of-a-kind sporting event.
There is no denying the amazing potential for this new sport to make use of cutting edge technology, and push other industries, such as television. Thanks to the brilliant, colorful light bars and the dizzying first person view it becomes something gripping and mesmerizing to watch. If drone racing could be viewed live on a VR setup or Hololens, just like the racers themselves, then drone racing could be one of the most immersive professional sports out there. Unfortunately, that technology isn't quite mainstream yet.
There has also been some crossover back into the consumer drone world. Several companies now offer LED light kits for events like night flying, or to simply make your drone look like a racer. It is even possible to buy LED gates on Amazon to race your own drones in the backyard. Drone racing has so much potential, both as a professional spectator sport and a fun, safe backyard activity. It certainly is promising to become a more accessible event by harnessing cutting edge technologies like VR and the latest developments in AV to bring excitement to fans. The big question is; will it be able to do this and become a mainstream sport or continue as an exciting but niche event.
Latest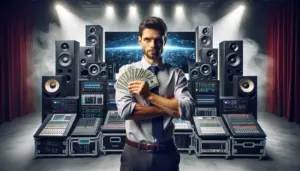 December 8, 2023
Mastering AV sales strategies in a global professional audio-visual (Pro AV) market, poised to reach $79.2 billion by 2028, requires much attention to detail. The surge in demand from corporate, government, and institutional sectors, driven by the need for enhanced productivity and efficient working environments, gives AV sales pros a lot of opportunity. In […]
Read More