Everything You Need To Know About Samsung's New Unbreakable Smartphone Screens
Is an Unbreakable Smartphone on Its Way to Market?
Samsung Display introduced a new "unbreakable" OLED (Organic Light-Emitting Diode) screen to the world. It guarantees to be the most rugged smartphone screen on the market that can withstand drops, slips, and other abuse.
This new screen is made from a plastic substrate—much more durable than the typical glass used in smartphones. Samsung reported that the new material was subject to extreme testing, even exceeding the requirements of the Department of Defense.
There have been other shatter-proof screens introduced in the market, but none with this type of durability. U.S. consumers need some help keeping their screens crack-free. A Motorola study found that at least 21 percent of smartphone owners have a cracked screen.[1] And even more startling is that a cell phone breaks every two seconds in the U.S., per insurance company Squaretrade research.[2]
The material that makes Samsung's new screen different is completely flexible and lightweight. It passed multiple drop tests at both 1.2 meters and 1.8 meters, which is impressive compared to just about any other material, including Gorilla Glass used in iPhones. The latest version of Gorilla Glass is robust on its own, as it is ion-strengthened glass, but has not passed these kinds of tests.
The Samsung screen is not the only emerging possibility for the unbreakable. Manufactured sapphire, used in transparent armor on military vehicles, can be found on smartphones, including the HTC U Ultra. A comparison of the manufactured sapphire versus Gorilla Glass ended in the former being called the winner.[3] For these screens, consumers will pay more, but it will be able to take it's share of fumbles.
Another notable characteristic of this screen's material is that the resolution and quality continue to improve. The smartphone industry understands the importance of brightness and vividness so the materials they use are built around that philosophy.
Samsung's new screen does not have a debut date, so it is hard to determine if any of it's quality will be compromised. It is highly doubtful it does, so this new offering could be what helps Samsung become the premier smartphone on the market.
[1] http://motorola-blog.blogspot.com/2015/10/cracked-screens-and-broken-hearts-2015.html
[2] https://www.squaretrade.com/press/new-study-shows-damaged-iphones-cost-americans-10.7billion-4.8b-in-the-last-two-years-alone
[3] https://www.theverge.com/circuitbreaker/2017/5/4/15544426/htc-sapphire-u-ultra-iphone-galaxy-scratch-resistant
Latest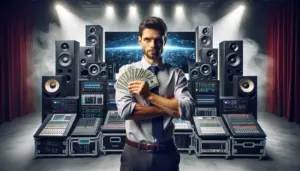 December 8, 2023
Mastering AV sales strategies in a global professional audio-visual (Pro AV) market, poised to reach $79.2 billion by 2028, requires much attention to detail. The surge in demand from corporate, government, and institutional sectors, driven by the need for enhanced productivity and efficient working environments, gives AV sales pros a lot of opportunity. In […]
Read More