Exploring the Use Cases for Hands-Free AV Solutions
Current technology and equipment solutions are primed to play a role in the post-pandemic new normal, allowing employers to expand collaboration and efficiency while enabling interaction in workspaces and other environments safely.
Social distancing aids efforts to keep members of the workforce and consumers safe during the elongated period of recovery from the COVID-19 disruption. However, as facilities reopen, we must maintain a focus on enabling engagement and productivity while ensuring a healthy and safe environment in the workplace.
Hands-free spaces and collaboration will be an integral part of the march toward "business as usual," but, in determining the proper technology, solutions and workflow, it's best to evaluate use cases for these solutions and examine how these initiatives can best be undertaken.
Highlights:
Exploring the Use Cases for Hands-Free Solutions
Potential Options for Consideration
Interactive Content Remains Relevant
Keeping an Eye on Security & Usability
Working with an End to End Integrator
Exploring the Use Cases for Hands-Free Solutions
Automation of everyday processes accomplished without physical interaction between two human beings will lead the charge in the development of hands-free tools and solutions. This includes interaction in close proximity and interaction with devices and work surfaces touched by multiple users.
Consider reception areas and conference rooms. In each, limiting of touch-enabled surfaces, bring-your- own-device integrations, and other options will pave the way toward the same end goals – without actual physical interaction.
In audiovisual solutions, limiting touchpoints plays an integral role in reducing exposure. Instead of operating a solution via numerous remotes and equipment interfaces, thorough integration into a single glass touch panel or dashboard provides the same level of control and ease of cleaning without unnecessary separation of key touchpoints.
Smarter, more automated user interfaces limit interaction with touch panels, bringing additional benefits in terms of a frictionless experience for both employees and consumers. While intended to reduce touchpoints and improve sanitation efforts, this approach ultimately reduces system complexity and increases user satisfaction and solution reliability.
In addition to AV and collaboration technology solutions integration, we recommend extending this touchless or reduced-touchpoint mindset to the entirety of a space. Additional frequent touchpoints, such as light switches, HVAC thermostat controls, door handles, window treatment and other building automation components can be integrated into that same holistic solution, expanding the capabilities of hands-free spaces.
Ideal solutions would have the appropriate lighting and other environmental devices power on automatically, provide a quick and simple way to authenticate into that space's AV solution, and empower the user to begin hands-free collaboration on the spot.
Download this whitepaper to read more about Hands-Free Workplaces and options for consideration.
Latest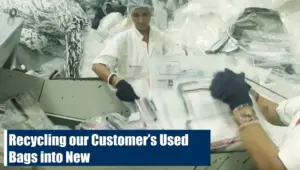 December 6, 2023
This video focuses on EcoLOK4, a groundbreaking product by CONTROLTEK that exemplifies innovation in sustainability. It highlights the process of transforming landfill waste into new deposit bags, with 90% of each bag's material being repurposed trash. This initiative not only reduces waste but also closes the sustainability loop, demonstrating CONTROLTEK's commitment to environmentally friendly […]
Read More