A Head of Its Time: LED Sculpture Takes Larger-Than-Life Selfies
An interactive public art exhibit unveiled at the Greater Columbus (OH) Convention Center is taking the art of the selfie to a whole new level. Conceived by artist Matthew Mohr, As We Are is a 15-foot LED sculpture shaped in the likeness of a human head.
The one-of-a-kind installation, engineered and produced by Design Communications Ltd. (DCL), invites guests to step inside a photobooth where 32 cameras snap photos of a subject's face. Facial recognition software then assembles the images into a flattened texture map which is then broadcast onto the exterior of the sculpture for all to see.
The art piece is "intended to present Columbus as a welcoming, diverse society," says Mohr, who suggests that the exhibit offers a commentary on the role that social media plays in our culture.
"Something like this has never been done before," says Jason Helton, executive vice president of SNA Displays. "We pride ourselves in our vast engineering capability, and we really excel in highly custom projects like the LED head sculpture."
To read the original article, click here.
Latest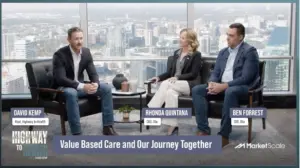 December 7, 2023
As of recent times, the healthcare industry has been progressively shifting towards value-based care, a model that emphasizes patient outcomes over the quantity of services delivered. This transition represents a significant shift that promises to enhance patient experiences and outcomes while controlling healthcare costs. With a growing emphasis on this approach, especially over the […]
Read More