How Pro AV Can Combat E-Commerce
Restaurants and retailers are finding ways of using interactive pro AV to change the way people shop and dine. The Pro AV industry is making experiences more convenient, and more entertaining. In an age where it is easier than ever to stay at home and order everything, including food from almost any restaurant, it is increasingly important to improve customer experiences to bring customers through the doors. More than simple digital signage though, the hospitality and retail industries are using interactive features to encourage engagement with products, menus and more.
Restaurants like Chili's make good use of interactive pro AV with its tabletop kiosks that allow diners to sign up for its rewards program, pay for food, and even play games from the table.
The kiosks are also used as a digital menu and diners can even to place their own orders, as is being seen increasingly in McDonald's locations across the country as well. It should not come as a surprise if both functions are combined, especially if people find it more convenient and accurate to order using such systems.
Retailers have also found similar benefits from kiosks. To combat the rise of e-commerce, physical retailers are looking to provide interactivity that customers cannot receive from their home.
A kiosk that provides a map and allows shoppers to type in what they are looking for could help people more quickly find exactly what they need. Interactive pro AV devices could also be used for people to sign up for rewards programs or to get digital coupons sent to their phone. When there is not a customer interacting with the kiosk, the screen could easily be programmed with advertising to increase sales. Self-service kiosks near the exits would also allow people to make their own purchases, much as we see with self-checkout lanes in grocery stores.
These are just some of the ways interactive pro AV is being used by restaurants and retailers. As they become more widely used, we can expect to see even more innovative ways retailers and restaurants can digitally interact with their customers.
Latest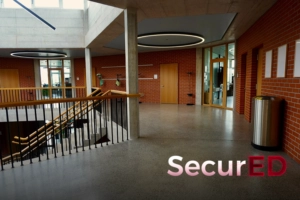 September 21, 2023
In a recent segment of SecurED, hosted by Mike Matranga, CEO of M6 Global Defense, and featuring Marshall Caplan, Senior Security Consultant at M6 Global Defense, the conversation delves extensively into the vital subject of school security. This engaging discussion centers on the reevaluation of priorities within the realm of school safety and security, […]
Read More